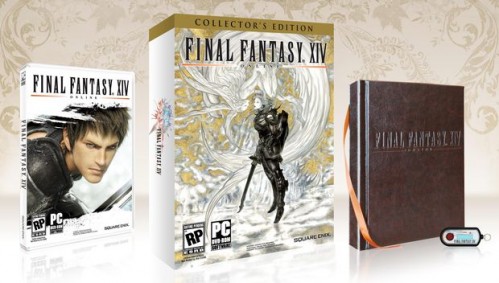 Die hard fans of Final Fantasy XIV will be ecstatic to hear the following news; FF XIV will be arriving on store shelves for the PC on September 30th. Not only that but they have released the requirements that your gaming rig will need to have to even run the next generation of MMO's.
Windows XP SP3
Windows Vista 32bit / 64bit SP2
Windows 7 32bit / 64bit

Intel® Core™ 2 Duo (2.0GHz)
AMD Athlon™ X2 (2.0GHz)

Memory
Windows XP: 1.5GB or higher
Windows Vista / Windows® 7: 2GB or higher

Install: 15GB or more
Download: Space on the hard drive where My Documents is located should be 6GB or more

NVIDIA® GeForce® 9600 series or higher with VRAM 512MB or more
ATI Radeon™ HD 2900 series or higher with VRAM 512MB or more

DirectSound® compatible sound card (DirectX® 9.0c or higher)

Broadband Internet connection or higher

1280 x 720 or higher; 32bit or higher

DirectX® 9.0c
So now we know what the game will require to play, but that is only if you happen to purchase it yourself. You can buy the boring ol' $50 edition of the game and will give you a one month trial. However if you happen to be a bit extravagent and love Final Fantasy games, then you can pick up the Collector's Edition that will come at the price tag of $75. If you wish to collect this collector's edition you will recieve:
IN-GAME ITEM – Collector's Edition preorders will include a reward code to receive an exclusive in-game item, the Onion Helm.*
EARLY ACCESS – Play 8 days prior to the release of the Windows PC Standard Edition (timing of access subject to initial server capacity).
BEHIND-THE-SCENES DVD – Get an insider look at the making of FINAL FANTASY XIV, with exclusive video content, interviews and more in this special documentary DVD.
SECURITY TOKEN – A FINAL FANTASY XIV–branded Security Token for use with your regular password.
TRAVEL JOURNAL – Record your travels in this beautifully bound journal filled with pages of never-before-seen concept art.
RIGHT OF PASSAGE – Redeem a voucher to receive your fully-personalized Right of Passage Certificate, each stamped with a unique serial number.
AMANO COVER – Special PC Collector's Edition illustration by renowned artist Yoshitaka Amano.
FREE GAMEPLAY – Free gameplay for 30 days.
Then again you will also be forced to pay the monthly fee of $13 to keep playing after the initial 30 days, bringing about the standard fees anyone finds in these pay to play MMO's. All prices are in American dollars.