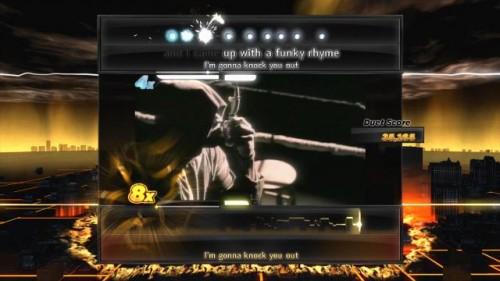 It's time to grab the mic and spit some beats with 4mm games and Def Jam Interactive's newest title, Def Jam Rapstar. 4mm Games, Terminal Reality and Def Jam Interactive have announced additional tracks for the upcoming music title for the Xbox 360, PS3, and Wii consoles.  After the announcement earlier this year, hip hop fans will be happy to see more artists and familiar songs added to the already impressive 40+ song list.
New confirmed tracks Include:
A Tribe Called – Quest Scenario
Chipmunk – Chip Diddy Chip *UK Exclusive
Jim Jones – We Fly High
LL Cool J – Mama Said Knock You Out
Ludacris – Stand Up
Onyx – Slam
RUN DMC – Run's House
It was also Announced Cool & Dre and DJ Khalil join DJ Premier and Just Blaze as producers providing exclusive instrumental beats for Freestyle Mode, allowing the player to deliver their own rhymes over never before heard tracks by some of today's hottest producers.
New Producer Tracks Include:
Cool & Dre – Epidemic
DJ Khalil – The Good Doctor
With the social networking and console camera  being added into the mix allowing new emcee's to upload their videos to the Def Jam Rapstar community, this is the music game for hip-hop fans to watch for. For a full track list and more information, head to http://www.defjamrapstar.com/