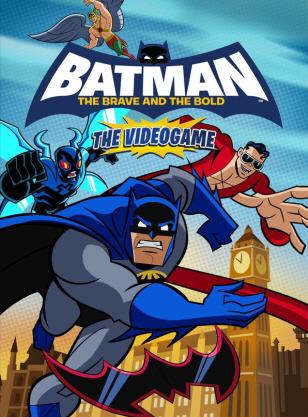 Citizens of Gotham are to be saved yet again, as Batman: The Brave and the Bold is getting a full video game treatment for the Wii and the DS this fall. Yes, Arkham Asylum is now the Batman experience for most gamers out there, but Brave and the Bold is catching my attention for many other reasons.
First is a full 2D experience. I grew up first playing Batman games on my Sega Genesis years ago, and this game is looking extremely smooth and fluent with beautiful 2-D graphics. Another reason is also the co-op play. Of course Robin is in, but also playable is Green Lantern, Hawkman and Blue Beetle with assists from drop‐in heroes such as The Flash and Aquaman.
Features are set to include:
Team Focused Superhero Gameplay: Play along with family and friends in two‐player co‐op mode as Batman or one of his powerful allies including Robin, and call in the help of drop‐in heroes such as The Flash.
Play the Show: Experience a true interactive adaptation of the cartoon classic with feature‐quality character animation, many of the same VO cast as the show, and all the same great writing, humour, and action!
Cool Gadgets and Unlockables: Use Batman's iconic gadgets including his Batarang, Jet Booster, belt sword and more to complete missions. Unlock and upgrade new gadgets and team up with new heroes as you fight your way to justice.
Journey to Foreign Lands: Battle through four unique environments including Gotham City, London, Science Island and Planet Oa.
Fight Dastardly Villains: Just like the show, kick off each game episode mid‐battle, followed by epic boss encounters with villains such as Catwoman, Gorilla Grodd and Gentleman Ghost.
Wii/Nintendo DS Interconnectivity: Link the Nintendo DS version to the Wii version to unlock Bat‐Mite as a playable character that can be controlled with the Nintendo DS. Be helpful or mischievous while fighting alongside the heroes.
If you are a hardcore batman fan or just a fan of arcade style beat-em-up games you now have a reason to check out a fresh new title on both Nintendo platforms. WayForward and WB Game's  Batman: The Brave and the Bold hits shelves in September of this year. Check out the trailer below and be sure to check out the greatness that is Aquaman at the end of the clip FOR THE ENTIRE OCEAN IS MY ARMY!!!!!!!