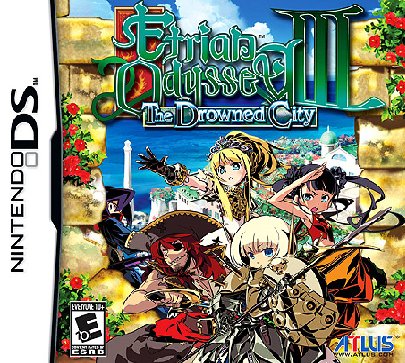 Atlus is a fan favorite for gamers everywhere due to their quality of artwork and detail they add to every game they produce. With the new announcement of "Forests of Eternity", a stunning 60 page art book being released as a pre-order bonus for the much anticipated "Etrian Odyssey III: The Drowned City",  Fans will now be able to have their own piece of the game.
Atlus U.S.A. has made this statement regarding the new piece of merchandise which is sure to have all fans rushing to grab a pre-order instantly:
"From the sparking beauty of Armoroad and its broad azure horizon, to the haunting depths of the waters off its coast, Etrian Odyssey III: The Drowned City is a visual treat, offering explorers a world full of varied, colorful locales to discover," stated Aram Jabbari, Manager of Public Relations and Sales at Atlus.  "As such, the addition of a premium 60-page, full-color art book for fans who pre-order feels like the perfect complement.  What makes 'Forests Of Eternity' even more appealing, however, is the fact that it boasts designs and sketches not just from The Drowned City, but from the first and second Etrian Odyssey games as well.  It truly is the ultimate collectible for series fans."
In the newest installment, you must assemble a team of explorers to explore the secrets of the city of Armoroad far beneath the sea's surface. Features include:
Create your unique team — A system of 10 new classes and sub-classes and a wealth of proprietary skills make developing the optimal party absorbing, tactical, and rewarding.  A maximum of 30 possible member slots provide plenty of room to experiment.  You decide where to apply members' skill points: will you invest in sword mastery or learn a new healing spell?
Live and die by your map(-making) — When danger lurks around every corner, it is imperative to keep track of where you have been and what you found there.  The streamlined map maker lets you draw paths, paint in terrain, and drag and drop icons.  Watch the map grow bigger and more detailed under your hands as you capture every door, map, set of stairs, and secret pathway.
Adventure in the high seas — The ocean becomes a new stage for exploration as you take to the city of Armoroad to uncover the secret of why half of this once vibrant and technologically advanced metropolis sunk below the waves.  Sail your ship, chart the ocean map, sink enemy vessels, and take on seagoing FOEs on your way to playing out one of three possible endings.
Wirelessly share with friends –– Up to 5 friends can team up in special combat challenges over a local wireless connection to take down the toughest monsters living in the ocean. Additional options let you wirelessly trade items.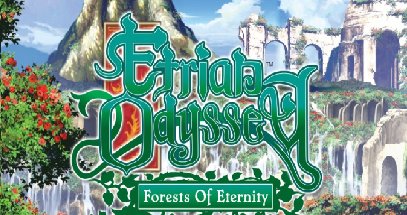 Etrian Odyssey III: The Drowned City launches on September 21st on the Nintendo DS. Don't miss out on this huge sequel and the one-of-a-kind pre-order bonus that will be sure a treasure for any RPG fan's collection. For a more in depth preview of the art book and a list of participating retailers, check out :