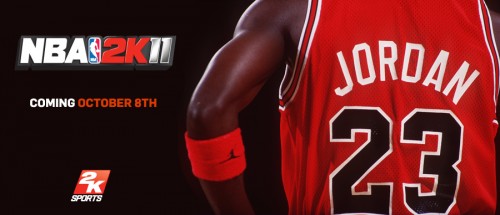 The Greatest of all time Michael Jordan legendary former NBA star will make a virtual return to the hardwood this fall
2K Sports announced today that 14-time NBA All-Star, five-time NBA Most Valuable Player, six-time NBA World Champion and recent Hall of Fame inductee, Michael Jordan, will appear on the cover of NBA 2K11. Jordan, who is considered by many as the greatest basketball player in history, will fittingly team up with the NBA 2K series, the top rated and top selling basketball simulation video game. 
"It's an honor to be featured on the cover of NBA 2K11," said Jordan, current majority owner of the Charlotte Bobcats.  "I have no doubt that NBA 2K11 will be a big hit with gamers and basketball fans alike.  I'm looking forward to getting back out onto the court, virtually. Let's hope they get my dunk from the foul line right."
2K Sports is paying homage to the NBA legend by placing him on the cover of its award-winning franchise. NBA 2K11 will continue to build upon the outstanding success of the NBA 2K series with continued improvements to the graphics, gameplay, signature styles and game modes seen in previous iterations.
"Without a doubt, Michael Jordan is the greatest of all time and we're excited to partner with a living legend," said Greg Thomas, president of product development for 2K Sports. "Working with Jordan adds tremendously to our game and lets us do things with NBA 2K11 that we've never been able to do before."
Who's excited about this ?  Let us know your thoughts and feeling about Jordan being on the cover and also what you think about the upcomming NBA2k11