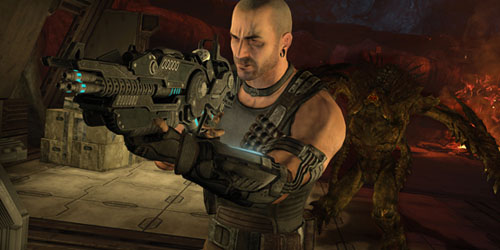 THQ's VP of core games Danny Bilson has stated that the launch of Red Faction: Armageddon will be preceded by an Xbox Live Arcade title. He states the the title will help build "buzz" for the upcoming retail title and increase sales.
Bilson further stats that XBLA and PSN games like these are "revenue generators and marketing tools," Bilson continued by saying that the arcade game will ship three or four months before the release of Red Faction: Armageddon. This will allow plenty of time to generate hype towards the main game. He continues with, "What's interesting is that we will sell it to the fans, it will have content you can download that is TV show-related, it will build up to the new game and also we can use it to drive pre-orders, too; we can give codes and aspects of it, we can give the whole thing away."
THQ is strongly affirmed to this type of selling point and Bilson states that "You'll see it on Red Faction, you'll see it on Saints Row and a couple of others," adding "Not only that, we have a comic book coming on it as well. And in December we'll announce the Saints Row situation, which is the biggest trans-media play anyone has ever done."
If you are still confused, this means we will get more Red Faction action in a small arcade game form. Many people are hoping for a port of the first Red Faction game that came out on the PS2, but i doubt this will happen. Using an FPS to hype a TPS won't work out too well.
Also, this further confirms a Saint's Row 3.