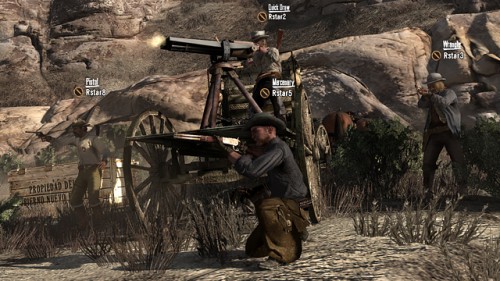 Looks like there are some generous people in the wild west. Rockstar has announced their official release date for the first DLC, Outlaws to the End, for Red Dead Redemption that date being June 22nd. The best news about this DLC however, is that it will be entirely free. The DLC is essentially a pack of online co-operative missions where you can play with up to three other friends totaling four players into the Free Roam. With this mode there will be many shoot outs and take you along many different areas of the wild west. It'll toss six online co-op missions (for two to four players) into the sandbox and take your posse uphill, downstream and in-between several shootouts. It will also include challenges, bonus multiplayer XP awards and Achievements/Trophies.
Three missions have already been detailed by Rockstar:
"Walton's Gold"
Walton's Gang have taken control of a mining camp rich with gold. Fight through the camp and load your mine cart with as much gold as you can carry and get out as fast as you can – Walton's boys have rigged the place to blow!

"The River"
Ride a raft down river, taking out rebel encampments along the way until you reach the rebel stronghold of Nosalida and a final epic battle for the town's massive weapons caches. Watch out for Gatling gun-equipped enemy rafts.

"Ammunition"
The Mexican Army has the town of Tesoro Azul under siege. Storm the gates under heavy cannon, Gatling gun and sniper fire to destroy the Mexican artillery placements.
Best thing of all is that this DLC is free. Most of the times when you hear of DLC for a game it also comes with a bit of dread as you know you will have to pay more to experience it. I'm looking forward to this DLC and include some nice co-operative action outside of getting shot by everyone in Free Roam.