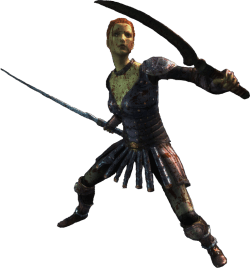 Anyone that has played EA & Bioware's Dragon Age: Origins has seen Leliana, some may have done far more than see her depending on how you played the game. But those of us who spoke with her know about her troubled past as a bard/assassin and even met an old friend of hers as well. Now Leliana was never very forthcoming with what exactly she had done in the past, but now we have the chance to find out. This is because Leliana's Song is set for release on July 6 for the Xbox 360, PS3, and PC and will cost $7 on all systems.
Now in Leliana's Song players will be placed behind the lovely eyes of Leliana long before she met the heroes that would fight the Archdemon. Players will explore through her dark past and even find out why she changed her life of murder and joined the Chantry. Plus there will be additional unlocks for use in Dragon Age: Origins and Awakening.
I've always been curious as to what her dark past involved and it definitely will make for an intriguing addition to the overall story. But one thing that we all know about her past, is that it was kill or be killed. There will be blood in this DLC.