The Halo: Reach Legendary Edition includes the following:
* Game disc housed in recovered ONI "black box"
* An exclusive Elite armor set for use in multiplayer modes
* Artifact bag containing Dr. Halsey's personal journal and other classified documents and effects that unravel long held secrets from the "Halo" universe
* Halo: Reach game software and manual
* Noble Team statue expertly crafted by the artisans at McFarlane Toys. Individually molded, hand-painted and individually numbered, this statue is a must-have for any serious "Halo" fan
* UNSC-themed custom packaging
* An exclusive multiplayer Spartan armor effect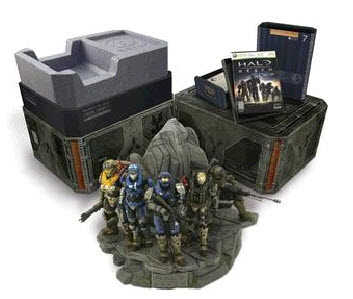 PRE-ORDER HALO REACH: LEGENDARY EDITION – CLICK HERE
"Halo: Reach," developed exclusively for Xbox 360 by acclaimed developer Bungie, is the blockbuster prequel to the best-selling Xbox franchise of all time. It represents the culmination of Bungie's 10 years of experience crafting groundbreaking "Halo" games that have raised expectations for what can be achieved in a video game.
In "Halo: Reach," players experience the fateful moments that forged the "Halo" legend. It's the story of Noble Team, a squad of heroic Spartan soldiers, and their final stand on planet Reach, humanity's last line of defense between the terrifying Covenant and Earth. This darker story is echoed by grittier visuals amid a backdrop of massive, awe-inspiring environments. Characters, enemies and environments are rendered in amazing detail by an all-new engine designed to deliver epic-scale encounters against the cunning and ruthless Covenant.
Once the campaign is over, the battle continues online with an unparalleled multiplayer experience that expands on the award-winning suite of features that helped define the Xbox LIVE experience.
Features:
* Meet Noble Team. For the first time, players will fight alongside a squad of iconic Spartan soldiers, each with deadly talents as unique as their individual personalities and customized gear.
* An intense campaign. Live the events that set the stage for the "Halo" trilogy as the UNSC and Covenant clash at the height of their military power. New weapons and abilities complement the familiar "Halo" arsenal for the largest-scale battles ever witnessed in the "Halo" universe. Fiercely cunning artificial intelligence (AI) adds depth and complexity to each encounter, helping make every play-through a unique and epic experience.
* Stunning technical advancements. "Halo: Reach" takes a massive leap forward through all-new engine technology designed to take full advantage of next-generation graphics, audio, special effects, AI and animation while continuing to expand on the campaign, cooperative and multiplayer sandbox in a way that only "Halo" can.
* The definitive multiplayer experience. "Halo: Reach" builds on the success of its predecessors, setting a new standard for competitive gameplay, customization, variety and community integration.
* Unparalleled feature suite. "Halo: Reach" expands on the industry-leading suite of features found in "Halo 3," including four-player cooperative campaign play, split-screen support, saved films & screen-shots.