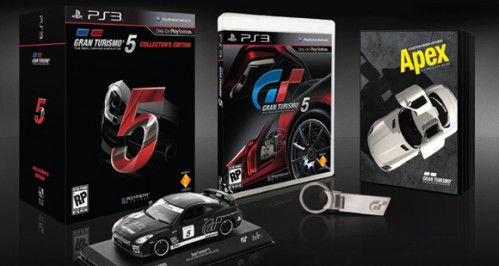 So today at E3 we heard a huge announcement by Sony, that Gran Turismo 5 is finally going to be arriving on shelves!!! Not only that but now the game's official website has updated to show a Collectors Edition! More about that later. The biggest news is that Gran Turismo 5 will be released on November 2nd, 2010! Plus it will be one of Sony's 3D supported games, so expect some big things from GT 5.
Now back to that Collector's Edition, it will be including:
Exclusive limited edition 1:43 scale diecast 2009 Nissan GT-R Spec V with custom Gran Turismo livery designed by Polyphony Digital, produced by well-known collectible car maker Kyosho

In-depth 300-page car-lover's guide written by the experts at Polyphony Digital, covering everything from the history of the modern automobile to driving techniques and game reference material

Custom etched Gran Turismo key chain

Voucher for five (5) exclusive high-end cars with custom Gran Turismo livery and performance upgrades

Numbered certificate of authenticity

Custom collector's packaging
Here is a close up of the diecast car model: If you so happen to want this edition of the highly anticipated GT 5, then the current price is $99.99 SRP. After waiting for so many years people will definitely be grabbing these up very fast, so if you wish to have one pre-order now because Sony is saying this edition is in limited supply.