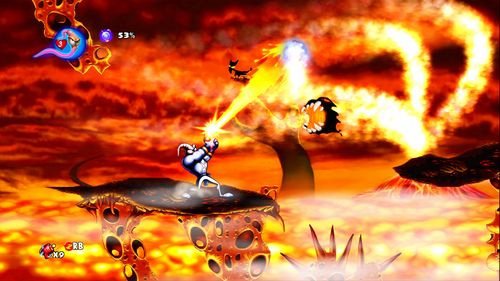 Gameloft have revealed a date for Earthworm Jim on Xbox Live Arcade which will be the 9th of June Worldwide.  Priced at 800MS points this remastered HD version of the 1994 classic is jam packed with Earthworm goodness !! Check out all the extras and details below along with the video gameplay footage
What's new here?
3 exclusive levels in a never-before-seen setting, with a slew of new enemies to blast into pieces
–       Local or online 2-4 player co-op mode in 15 multiplayer levels
–       Achievements to unlock
–       Jim's costumes for your Xbox LIVE avatar (to unlock)
With obviously the improved core features that build the success of the 1994 game:
All the original levels, now with an HD facelift!
–       Easier difficulty levels
–       Tremendous gameplay possibilities: Side-scrolling running & gunning, platforming, space racing, bungee jumping, submarine piloting, and many more.
–       Re-mastered cult soundtrack that every fan used to love
Who's excited to see the mighty Earthworm Jim make a comeback in HD on the XBOX 360 ?? Let us know what you think 🙂 Leave a comment below