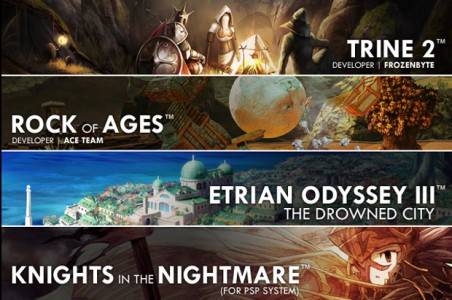 Looks like Atlus is being a bit vague in how they are releasing their news for E3 this upcoming week.
They have showed us that Trine 2 which they are co-developing with Frozenbyte is coming out, though this is hardly a surprise to anyone is it? Considering that they have announced their partnership just a few days ago themselves.
On top of Trine 2 there will also be showings for Etrain Odyssey III: The Drowned City and Rock of Ages. Also they have released Knights in the Nightmare which will be showing up on the PSP only.
There was also the mention of a few secrets that they could be holding back from us that they will unveil at E3. Wonder what these could be? We will see next week when they unveil everything that they have in store for us.