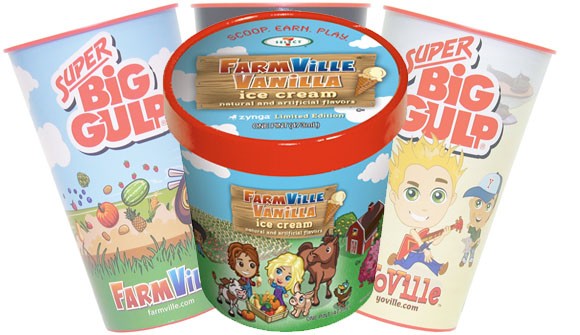 Sure, Zynga games on facebook are pretty popular among a certain demographic and they make a lot of money off of a mostly free game through micro transactions.
Zynga has partnered up with 7-11 to give your Zynga game branded slurpee, big gulp, and ice cream. With every purchase you get a code to unlock an exclusive in game item. Sure the item is pointless but seeing a hardcore gangster walk out of 7-11 with a Yoville branded Big Gulp cup is priceless!
Below is the full list of exclusive items and how to get them.
FarmVille
Fun Slide – Slurpee cups

Big Splash – Big Gulp cups

Coffee Cart – Large iced coffee

Sandwich Cart – All fresh sandwiches

Chocolate Persimmon (Tree) – Cut fruit

Neapolitan Cow – 7-Select vanilla ice cream (pint size)

Water Tower – 7-Select bottle water

10 Fuel Tanks – Prepaid FarmVille game card
Mafia Wars
Showman (weapon) – Slurpee

Trio Diva (vehicle) – Big Gulp

Lone Wolf (weapon) – 20-ounce coffee

Sleek Bulletproof Vest (armor) – pizza, chicken wings, Big Bite products, chicken tenders and breakfast quesadillas

Pepper Shaker (weapon) –hash browns, taquitos, Burrito Rollers, potato wedges

Palermo Prowler (vehicle) – 7-Select chips

Combat Helmet (armor) – Prepaid Mafia Wars game card
YoVille
Wall Freezer – Slurpee

Hamburger Stand – Big Gulp

Coffee Machine – 7-Select packaged brownies

Donut Display – 7-Select packaged cake donuts, four-pack

Candy Stand – 7-Select candy

Soda Machine – 7-Select orange soda

Nacho Machine – Prepaid YoVille game card