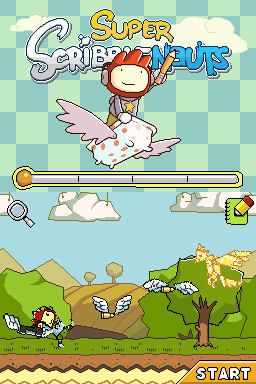 5th cell has announced today that they will be releasing what is known as Super Scribblenauts. It seems that instead of simply naming the game with a number addition and being on a Nintendo platform, 5th cell is taking a page out of Mario's book. Warner Bros. press release follows:
Available in autumn 2010, Super Scribblenauts for Nintendo DS expands the innovative elements from the acclaimed first title, offers upgraded controls and provides gamers with hours of original entertainment with ingenious, fun-filled new features. In Super Scribblenauts, created and developed by 5TH Cell, players use the stylus and touch screen to help Maxwell, the game's hero, acquire the "Starite," the prize earned from solving the puzzle in even more robust challenges and redesigned levels.

All-new for Super Scribblenauts, players now have the ability to write any object that comes to mind and modify it in any way they desire using adjectives to reach the goal in many levels. Adjectives can change the color, size, style, behaviours and many other aspects of the object they are describing. Multiple adjectives can be combined together to produce incredibly creative objects, such as gentlemanly, flaming, flying zombies and purple, obese, winged elephants, allowing the player's imagination to run wild for an even more inspired and individual experience than ever before.
Looks like there will be a big new addition towards the game play now. Rather than creating a normal dingo and a normal baby, you could create a giant baby to eat your dingo. This will definitely improve the game play by making things a bit less repetitive as you can change objects and items at will with the adjectives. Also with an improved control system then the main character hopefully won't be plummeting to his doom out of simple mis-touches of the stylus.
Look for Super Scribblenauts to be coming out sometime this Fall season. I played the first one and it was entertaining for a bit, however after enough trial and error most of the puzzles could be solved with just a few words that you could use over and over again without much fluctuation of style. With the adjective addition, it should make things much more interesting.