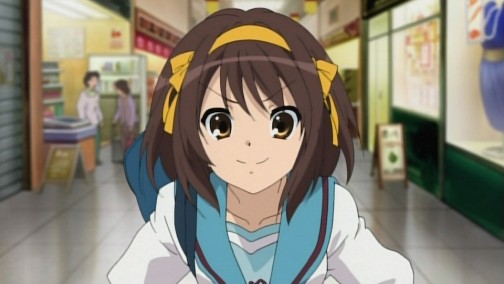 If you happen to live in the San Francisco Bay area and are a fan of Haruhi Suzumiya then you are in for some great news.  Bandai Entertainment, Crunchyroll, and Yen Press are teaming up to premiere The Disappearance of Haruhi Suzumiya on May 21st.  The premiere will take place at Viz Cinema which is in San Francisco, CA.
According to Japanator after the movie, guests will be treated to a raffle of both Manga and Novel giveaways from Yen Press, and Crunchyroll will be giving away premium memberships to their anime streaming website.
Not only that but Cristina Vee will be performing a few songs both in English and in Japanese from the various Haruhi Suzumiya series and movies for movie goers, as well as autographing posters which she will be giving away.
After the debacle of The Melancholy of Haruhi Suzumiya's handling of the endless eight storyline, it is clear to see that fans of the anime are extremely die hard and willing to continue supporting the SOS Brigade.
For those that also don't know, Endless Eight was a controversial animation choice, where a total of eight episodes of anime were produced using literally the exact same dialogue, and only minor adjustments in perspective and clothing.  The storyline was the exact same, as time was being repeated continuously until a small non-consequential bit was changed.  The story itself was only a small 30 pages in the manga, but spanned a total of 8 episodes.  The usual running for new episodes is 13.  This means that the studio producing the anime had literally wasted over half a season showing the same episode over and over again.  The Disappearance of Haruhi Suzumiya however, is the most anticipated storyline of the entire series.