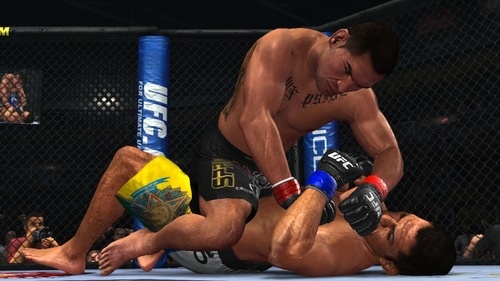 After a short delay (and the resulting member outrage which resulted in THQ pretty much shutting down the community website) the demo for UFC Undisputed 2010 is now live!
The demo will feature four light heavyweights – Mauricio "Shogun" Rua, Lyoto "The Dragon" Machida, "Sugar" Rashad Evans and Quinton "Rampage" Jackson. You can fight in a singleplayer exhibition mode, or against friends offline in the tournament mode.
Here's how you can grab your code and get into the octagon:
1. Sign in to http://community.ufcundisputed.com. If you are not a member, simply register for an account (it's free).
2. Once you're signed in, click the link titled "Rewards".
3. You'll come to a screen with some info about the game, just click through to the next page!
4. You'll be presented with some box art representing the various territories – select the console and territory you want a code for (for example, PS3 PAL).
5. You'll be redirected to a page displaying your code – use it wisely because you only get one!
6. Get online, download the demo, and start bringing the ground and pound!