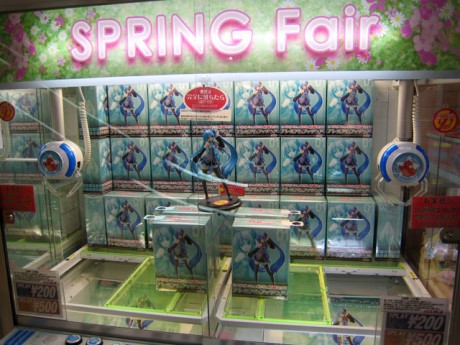 We've all seen various types of items placed inside of crane games. Personally I've seen everything from the standard stuffed animal, to working watches, to even video game consoles themselves. But this is the first time I have ever seen a crane machine featuring Vocaloid figurines.
Vocaloids are a product from Japan developer Yamaha which are synthesizers for songs and are used by those who wish to create their own music using the vocaloid program.  However these programs have also been coupled together with appearances and personalities which have flourished throughout Japan.  The most popular of which is Vocaloid S2 Hatsune Miku.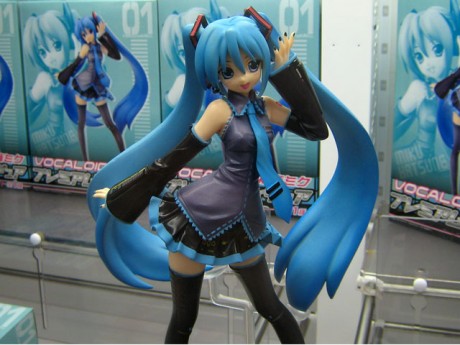 So popular in fact that she has spawned her own video games and many many music videos. There has been a multitude of figurines made of Hatsune Miku, and now she has been placed inside of a crane game. The figurine itself is 24 cm tall and also runs the cost of $50 USD, which is quite pricey for a figurine. Though one play itself costs 200 yen, roughly $2.
Quite interesting that a synthetic singer can be so popular and produce so much merchandise, while there are struggling singers in normal life. However the ability to create your own music without worrying on singing it yourself does leave open many creative paths otherwise closed due to stage fright/ability to sing.
A video of one of her songs made by a user of Vocaloid Hatsune Miku: