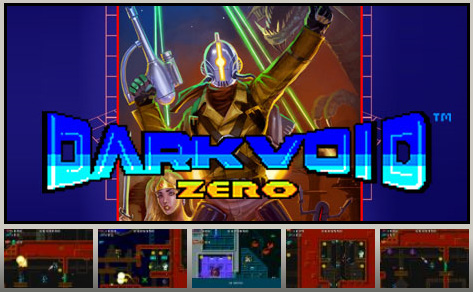 I'm VERY excited about this !! Now I can finally play Dark Void Zero on my Apple iPhone !! I know playing it the DSi was fun but I don't carry that around everywhere I go.  NOW I can flying into the Void take on the Watchers, pause the game take a phone call from Nikola Tesla, send an SMS to Will Grey and then switch back to Dark Void and Continue blasting those evil watchers !! WOO HOOO !!
Check out the details below :
Capcom Press Release information
We're pleased to confirm that Dark Void Zero has launched today on iPhone and Windows PC.
In this critically acclaimed 8-bit re imagining of the Dark Void console release, you play as Rusty, warrior test pilot and Nikola Tesla's trusted friend. With the help of your state of the art rocket pack, blast through three retro levels in your quests to close Portal X and save the human race.
The latest iteration of Dark Void Zero is packed will all new online features. Compete to be the best in the world with the online leaderboards that track scores and speed runs. The iPhone version features carefully refined touchscreen controls, giving players the tools for an amazingly precise and intuitive gameplay experience without the need for a controller. 
–
Who's already grabbed this ?  what do you think of it ?? Let us know 🙂