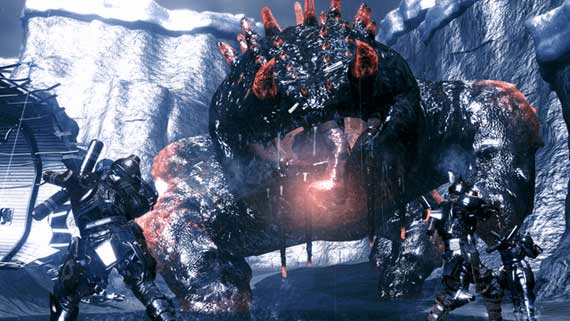 This is brilliant idea and I think everyone should give this a go.  Your helping out and your killing randoms online at the same time in Lost Planet 2 … man thats a tripple win in anyone's book.  I'll see you online …
Read the press release for all the information and then check out SNOW's Blog post over at Unity for all the information you need. 
For more details on the contest and the official rules, check out Capcom-Unity's very own Lost Planet GURU Snow's Blog post over Capcom-Unity for more information.
–
CAPCOM® UNVEILS LOST PLANET® 2 "KILL BIG FOR CHARITY" PROGRAM
Capcom to Donate Cash for Each Lost Planet 2 Multiplayer Demo Downloaded; Community Members To Compete for Spot in Celebrity Tournament at Lost Planet 2 Launch Party
–
SAN MATEO, Calif. – April 1, 2010 – Capcom®, a leading worldwide developer and publisher of video games, announced it plans for an exciting new campaign called "Kill Big for Charity" that ties into the new Lost Planet® 2 multiplayer demo. Kicking off this week as early subscribers begin to download the demo, the robust charity and community program will include a donation to Music for Relief for each demo downloaded via Xbox LIVE® online entertainment network or PlayStation®Network, a celebrity/charity tournament at the launch party and a community contest brought to you by Capcom Unity which will award the biggest Lost Planet 2 fans with spots in the celebrity tournament.
To launch the program, Capcom will create a charity fund of $20,000 as a donation for the first one million Lost Planet 2 multiplayer demos downloaded on the Xbox 360® video game and entertainment system from Microsoft and PlayStation® 3 computer entertainment system from March 31, when the early access program begins, through midnight PT May 5. If the demo surpasses the million mark across both platforms, an additional $5,000 will be donated when an extra 500,000 downloads is achieved. Please visit Lost Planet's community site, www.lostplanetcommunity.com for early access codes. They will also be distributed by various blogs, gaming media sites, and Amazon.com.
To celebrate the May 11th release of Lost Planet 2, Capcom will throw a pre-launch party in Los Angeles on May 6th. Fans can get on the list for the party on a first-come basis by signing up at http://www.capcom-unity.com/ later this month. A Lost Planet 2 celebrity tournament will take place during the party (participants to be announced at a later date). The winning team will choose which Music for Relief cause will receive the grand total of the demo download fund, which can be up to $25,000.
Additionally, beginning April 1, community members will compete for a seat in the celebrity tournament and a trip to Los Angeles to attend the launch party by submitting their best tips and tricks for beating the new Lost Planet 2 multiplayer demo to Capcom Unity. The Capcom Unity team will choose the four lucky winners and shall post them on http://www.capcom-unity.com/ and http://www.lostplanet2game.com/.