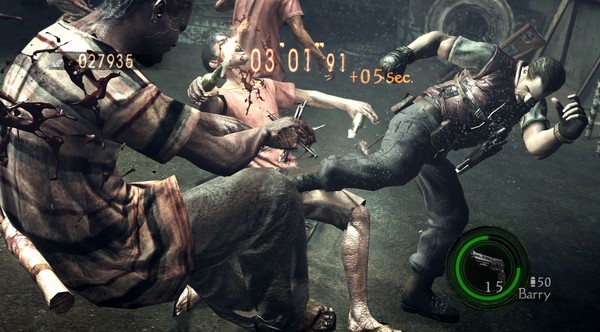 Great news from Capcom the second DLC episode for Resident EVIL 5 is out : Desperate Escape is available now on Xbox Live and will be available March 4th on Playstation Network
Check out the details below :
This latest addition to the Resident Evil storyline pairs Jill Valentine and Josh Stone in another harrowing lost chapter. Freed of a mind control device, a fatigued Jill has collapsed. Awaken by BSAA agent Josh Stone, Jill and Josh work together to escape from the Tricell facility under the darkness of night. Players will fight-off unrelenting waves of enemies, guiding Jill and Josh as they race to assist Chris and Sheva in their final showdown with Albert Wesker. If you download Desperate Escape you will also get to play in Mercenaries Reunion as Josh Stone and Rebecca Chambers, rookie S.T.A.R.S. member.
Not content with just releasing Desperate Escape, the second costume pack which features Chris Redfield's "Heavy Metal" costume and Sheva Alomar's "Business" outfit is also available to download. You can take your newly clothed Chris and Sheva into the Mercenaries Reunion mode too!
Resident Evil 5: Gold Edition will be available across Europe on 12th March and includes the original Resident Evil 5 game plus all the downloadable content to date on a single Blu-Ray disk for PS3. For the Xbox 360, the game includes the original Resident Evil 5 plus a token for all the downloadable content.
–
Who's picking or has already picked this up ?  Let us know what you think of it.