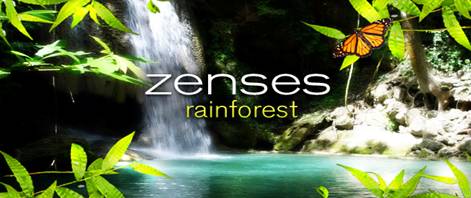 Our official product sponsors Kiloo are proud to announce the worldwide launch of their newest title for the Apple iPhone / iPod touch.  Zenses rainforest
Taking a break, a mental vacation or escaping from the everyday grind by doing things we find enjoyable is critical to our mental and physical health.
Zenses Rainforest  lets you escape from the stress of daily life while challenging the mind, body and spirit through relaxing puzzle games, soothing ambient sounds and authentic rainforest  visuals. Kiloo like to call this active relaxation!
Zenses Rainforest is the first game in a series of active relaxation games, which all promise to deliver a soothing puzzle experience, and best thing about it. Zenses is free to play with the options to buy features via the in-app purchase system.
You can get it from the App Store here:
Kiloo have also enabled OpenFeint, which will make it possible to earn rewards and compare high-scores with your friends, adding to the replay value.
Kiloo have also mentioned that  Zenses was recently chosen as a HOT TREND by ABC America in their 'Good Morning America' show. 
Check out the gameplay trailer below :
–
Why not pick up this fantastic game, its fun, its relaxing its good for the mind and most of all ITS FREE !!
Let us know what you think of it.  I'm already sitting outside in my over water bungalow sipping a cocktail whilst playng this game… ahhhh let the mind go and relax with Zensus.