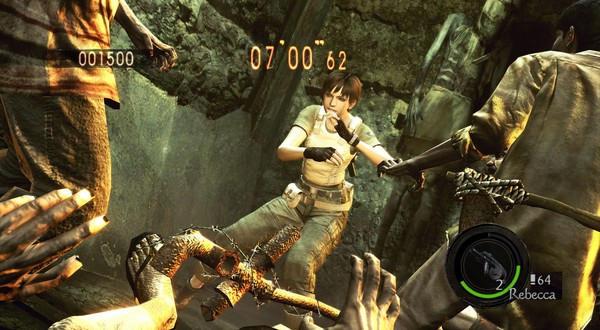 I don't know about you guys but I'm very excited about the Capcom announcement that we're going to be getting TWO classic Resident Evil 1 characters : Barry Burton & the beautiful Rebecca Chamber, both will appear in the upcoming Mercenaries Reunion mode in Resident Evil 5 : GOLD Edition !
Check the Press release information below :
Not only can you relive the terror of Spencer's mansion in LOST IN NIGHTMARES, but now you take control of iconic characters from Resident Evil past. Making their return from the original Resident Evil, Alpha Team's weapon specialist Barry Burton and the sole surviving member of Bravo Team, rookie Rebecca Chambers, are back to join the cast of THE MERCENARIES REUNION. Both of these classic S.T.A.R.S. members come equipped with their own customized weapon load-outs and will be strong allies as you gun down enemies, chain together kill combos, and rack up the points. THE MERCENARIES REUNION mode provides hours of additional gameplay whether you're going solo or partnering up with a friend to take on endless waves of enemies.
Check out the table below outlining which characters are unlocked with each piece of downloadable content:
Downloadable Content Characters Unlocked for THE MERCENARIES REUNION
Lost in Nightmares will include Barry Burton and Excella Gionne
Character Pack 1 will include Chris Redfield (Heavy Metal) and Sheva Alomar (Business)
Desperate Escape will include Rebecca Chambers and Josh Stone
Character Pack 2 will include Chris Redfield (Warrior) and Sheva Alomar (Fairytale)
For more information and release dates, please visit the official Resident Evil 5: Gold Edition website.