The wait is nearly over! Nintendo and Capcom® Entertainment, a leading worldwide developer and publisher of video games, announce Monster Hunter® Tri for Wii. Monster Hunter Tri will be available in May 2010 as a standalone game, or in a bundle with the new Classic Controller Pro™ which comes in black.
Monster Hunter Tri offers one of the best visual Wii experiences to date and depicts a living, breathing ecosystem where humans co-exist with majestic monsters that roam both dry land and brand new sub-aqua environments – a first for the series. Offering the player varied control configurations to suit their style of play, players can choose between the Classic Controller Pro, Wii Remote™ and Nunchuk™, or Classic Controller™ to slay the monsters that inhabit the world.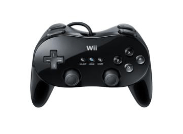 The Classic Controller Pro's more traditional control configuration will give gamers the ultimate monster hunting experience. The Classic Controller Pro includes a second row of shoulder buttons and ergonomically friendly grips. The Classic Controller Pro plugs directly into the Wii Remote™ controller, and until now, has been available only in the Japanese market.
Monster Hunter Tri is online play supported, so you can take your monster hunt online with up to three of your friends and talk to them via Wii Speak™. Or hunt together with a friend on one Wii in split-screen mode.
For further information on Monster Hunter Tri, visit: http://gamesites.nintendo.com.au/monster-hunter-tri/
–
Monster Hunter TRI looks brilliant and with the option of being able to play with the classic controller it's only going to make experience of hunting down those monsters even more enjoyable 🙂  Your comments below.