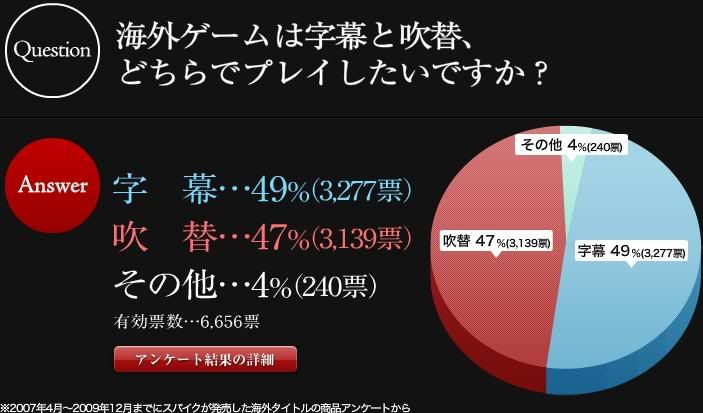 Exactly 6,656 were polled over the past two years in Japan, both through online forms and in-game packaging, on whether or not they prefer Subbed video games, Dubbed video games, or had a different choice.
For those of you who don't know, a Dubbed video game is when the original audio was removed from the game, and another language was placed over it. Such as the upcoming FXIII is an English dubbed version of the game, which originally was in Japanese.
However some people could prefer the option that the game be in the original Japanese Version, while having English subtitles below during any scenes involving dialogue.
Only a slight percentage more preferred a subbed video game, instead of a dubbed video game, with subbed having 49% and dubbed having 47%. The final 4% chose Other, which is quite curious as to how else they would prefer the game being presented to them unless they wanted it in the original language with no subtitles at all.
Personally I believe that there really should not be any need for a forced choice. Games like Eternal Sonata had an option to either hear the Japanese, or the English dialogue. Though games like Star Ocean: The Last Hope only had English settings, which is depressing considering the character motions did not match the voices nor the timing.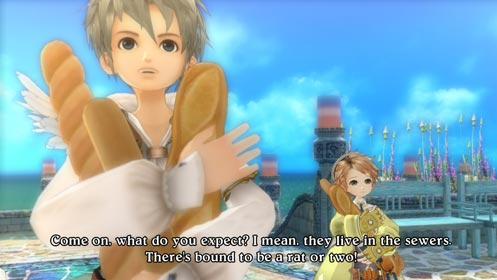 Game developers should try to provide a choice for their consumers, especially if the game is a Japanese import. Though it may increase the amount of data on the disk, having both dialogue options on the game would provide a more in depth experience. Also as I said before, dubbing a game can cause mistakes in the translation, or even cutting out certain dialogue as it is lost in translation.
This is seen in Armored Core 4. This occurs near the end of the game and causes confusion as an enemy acts like he knows your character, however presents no reason for this. This is because the text was not translated in the localized version for American release and was instead removed.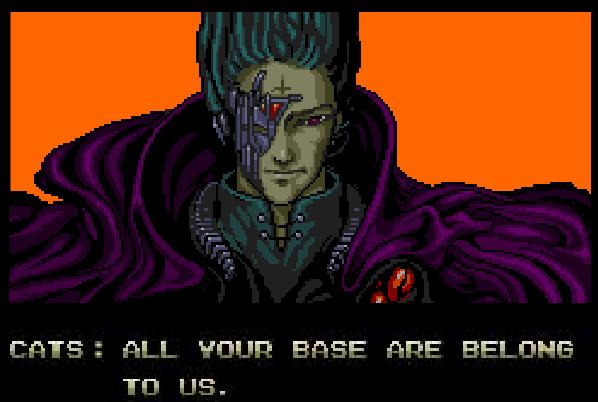 Technology has come quite far and translation methods have improved, but its hard to forget the errors of the past when it comes to certain translations. Though it is also hard to look at these mistakes from so many years ago, and worry about the future.
Let is know what you prefere, Subbed or Dubbed vote and also leave a comment too 🙂
–