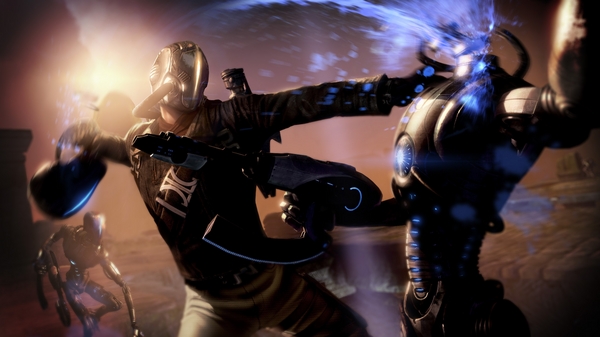 The new Dark Void DLC "Survivor Missions" give you a horde-esque experience as you try and stay alive against increasingly brutal waves of baddies, both on the ground and in the air.  You can get it on X360 on February 10th, for only 400 points ($5.00) and on PS3 users starting February 11th for $4.99.
The Dark Void soundtrack features 80 minutes of hand-picked selections from everybody's favorite sci-fi composer, Bear McCreary, as well as a special bonus 8-bit bonus track! If 8-bit is really your thing, there's also a Dark Void Zero soundtrack available–both are from Sumthing Else Music Works (on CD and digitally), and hit on February 9th.
Head here to hear some samples, read more after the break regarding Capcom's Press Release.
Prepare for the fight of your life! All-new Dark Void™ Downloadable Content will be available for Xbox 360 and PS3 starting next week! In the Survivor Missions, relive key events from Dark Void™ as you battle waves of increasingly difficult enemy troops. Rack up massive points with score multipliers for headshots, and hijack enemy aircrafts. Fight back against the alien armada! But never forget what matters most: Survival!
The new DLC will be an arcade-esque experience where the player battles through waves of enemies on the ground and in the air while collecting points and upgrading weaponry, with the goal being to survive to Round 10 and increase best their previous high score. Xbox users will be able to download this content beginning on February 10th, 2010 for only 400 points ($5.00) and PS3 users on February 11th for $4.99.
Not only are we giving you downloadable content next week but , we are also unveiling the Dark Void Soundtrack! This original Soundtrack features 80 minutes of score hand-picked by McCreary. It also includes a special bonus track, "Theme from Dark Void ™ (Mega Version)," an 8-bit rendering of the main theme written and produced by McCreary for Capcom's just shipped downloadable DSiWare ™ title, Dark Void ™ Zero.  Sumthing Else Music Works will be releasing the soundtracks for Dark Void, available (on CD and digitally) and Dark Void ™ Zero available (digitally) on February 9th.  
–