Indie Xbox 360 Developer Yaystuff is back.  This time we have another interesting and certainly fun Xbox 360 Indie title called Overscan Sniper HD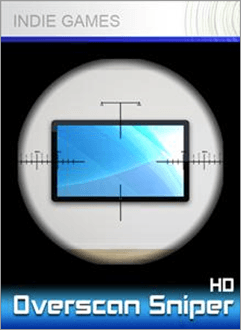 Now do you love your HD TV? Well if its new and its big and it cost u lots and lots of money,  then of course you do, but your TV might not be displaying the entire input! This is where Yaystuff gives you the weapons to calibrate your TV and reveal overscan problems. Being informed is as easy as peering through your sniper scope of overscan doom! Check everything out, if you don't like what you see, you can always just pull the trigger.
Overscan Sniper HD is available now from Xbox Live Marketplace for only 240 microsoft points.
Click on the link here to buy your copy now
** Yaystuff have also been very generous in donating FIVE free Overscan Sniper HD codes for download from Xbox Live Marketplace.  To win yourself a copy.  All you have to do is simply leave a comment here letting us know what your dream HD TV would be & also follow both Capsule Computers & Yaystuff on Twitter
Click here to follow Capsule Computers
Once YAY STUFF reaches 180 followers we will pick 5 lucky winners.
RT & Follow both Capsule Computers & YaYStuFF for a chance to win Overscan Sniper HD for your XBOX 360
–
Make sure you post your Twitter Acount with your comment below so we know who you are when we pick the winners.
Screenshots