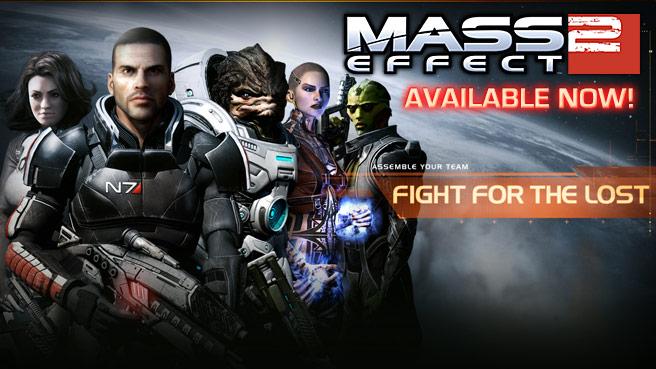 –
One of 2010's Most Anticipated Blockbuster Videogames Ships to Stores Worldwide Today
Welcome back Commander Shepard. Prepare to fight for the lost! BioWare, a division of EA, announced today that Mass Effect 2, the sequel to the award-winning science-fiction phenomena Mass Effect, has begun shipping to retailers worldwide. Noted for its intense shooter gameplay and deep, hand-crafted story, Mass Effect 2 has received universal acclaim from top media outlets around the world, earning an average review score of 97 based on 29 reviews on the Xbox 360 video game and entertainment system, making the game the second highest rated game for the platform of all time and 95 on PC.*  This includes perfect scores from 360 Magazine (5/5), Destructoid (10/10), Eurogamer (10/10), Eurogamer Italy (10/10), Eurogamer Spain (10/10), G4 TV (5/5), Game Daily (10/10), Gamespy.com (5/5), GamesRadar (10/10), gamesTM (10/10), Official Xbox Magazine UK (10/10), TeamXbox (10/10), Total PC Gaming (10/10), VideoGamer.com (10/10) and X360 Magazine (10/10). Time Magazine says Mass Effect 2 is "the Avatar of video games – except it's better written", and USAToday.com says "Mass Effect 2 sets the bar high for 2010."
Dr. Ray Muzyka, co-founder, BioWare and Group General Manager of the RPG/MMO Group of EA commented on the launch of Mass Effect 2 saying, "Rich, immersive worlds, compelling characters and stories, and intense action are some of the hallmarks of BioWare games, and Mass Effect 2 truly raises the bar in every area. I'm incredibly proud of our team, who worked passionately to deliver a very high quality game for our fans. This epic sequel in the stunning Mass Effect universe is an extraordinary accomplishment, one which we can't wait to get into the hands of a world-wide audience!"
The Mass Effect trilogy is an epic science fiction adventure set in a vast universe filled with dangerous alien life and mysterious, uncharted planets. In Mass Effect 2, players will once again step into the role of the heroic Commander Shepard, commanding their crew of some of the most dangerous operatives from across the galaxy on a mission so challenging that it's potentially suicidal. Featuring intense shooter action, a rich futuristic storyline, space exploration and emotionally engaging character interaction, the game delivers an unparalleled cinematic experience.
Gamers who purchase a new copy of Mass Effect 2 will also be able to activate the 'Cerberus Network', an in-game portal in Mass Effect 2 that will keep fans engaged with the Mass Effect universe through downloadable content (DLC) and news at no extra charge.  The first piece of DLC is available today, featuring a new mission around the Normandy crash site.  For players who do not buy the game new, the 'Cerberus Network' can be unlocked through a one-time, in-game purchase of an activation code for 1200 MS points on the Xbox 360 and $15 on the PC.**  BioWare will release additional news on future 'Cerberus Network' content in the coming weeks.
Mass Effect 2 is available for the Xbox 360 and the PC and is rated 'M' for Mature by the ESRB and '18+' by PEGI. For more information, please follow the development team on Twitter at masseffect2 or visit the game's Official Website.
* According to Metacritic.com.
** Activation is tied to a specific EA Online account and is non-transferable.