2010 is off to a GREAT START !! the first week of the new year has two of the year's biggest releases: Bayonetta & Darksiders.
Platinum Games are proud to introduce to the world beautiful Bayonetta, a witch who awakens after a long 500 year slumber to find herself with no memory of who she is, stuck in fictional European city of which she has no clue how she got there.  Bayonetta is due out to in Australia on the 6th.  As mentioned previously Bayonetta has a very cool collectors edition entitled The Climax Edition, which comes with a replica pistol from the game and an art book.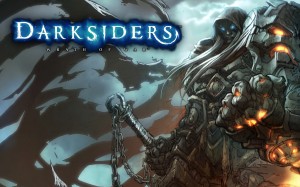 THQ's Darksiders on the other hand is a bit on the darker side and is set on Earth 100 years after the Apocalypse where the protagonist War, one of the Four Horsemen of the Apocalypse, sets off to find out why the destruction was brought forward. Gameplay was developed by Vigil Games, and the ever popular comic book artist Joe Madureira is responsible for the game's beautifully grotesque art direction. Keep an eye out for Darksiders when it releases this Thursday.
If you haven't already done so.  It's not to late to pre-order your copies now.  Make your way over to your local EBGAMES and pre-order both today.  I have and I can't wait to play them.