Award-WinningMatch-3 Puzzle Game Available for iPhone and iPod® Touch
DUBLIN, Ireland – December 8, 2009 — PopCap Games, the leading developer and publisher of broadly appealing video games, today announced the launch of its match-3 puzzle game hit Chuzzle™ for the iPhone™ and iPod® touch. Developed in concert with John Raptis, the designer and developer of the original PC version, Chuzzle is available immediately from Apple's App Store on iPhone and iPod touch, or at www.itunes.com/appstore.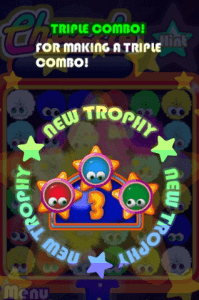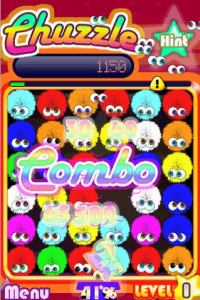 "Chuzzle is another great addition to PopCap's growing library of titles for the iPhone and iPod touch," said Andrew Stein, director of mobile platforms at PopCap Games. "The touch screen of the Apple devices is the ideal interface for the 'sliding' mechanic at the core of the game.  This is a fantastic adaptation that delivers on PopCap's outstanding track record for bringing out some of the most acclaimed games available in the App Store.  Young or old, male or female, everybody loves playing Chuzzle."
In Chuzzle, players shift rows of cute furballs called "chuzzles" to create vertically or horizontally matching sets of three or more chuzzles of the same color, causing the chuzzles to explode with happiness while more chuzzles drop from above to take their places. Four different game modes offer a nearly infinite range of challenges across seemingly limitless levels, and giant chuzzles, rainbow chuzzles, super chuzzles, and other bonuses help overcome various obstacles.
Key features of Chuzzle iPhone include:
Four different modes providing infinite level configurations and virtually limitless game play:

Classic Mode: the original Chuzzle in all its glory
Zen Mode: Stress-free, endless play without levels, locks or other constraints; the player's progress is indicated by colorful markers that appear as higher thresholds of popped chuzzles are reached
Mind-Bender Mode: a different sort of Chuzzle puzzle in which players slide rows and columns of chuzzles to make specified patterns
Speed Mode: standard Chuzzle action – only faster (and harder!)
Trophy Room: Your own personal "Hall of Fame" with more than twenty different trophies to collect and admire!
Scrambles: This special option instantly shuffles all chuzzles on the board anytime you run out of options/moves; in the mobile version of the game, players can earn and save up to five scrambles at any given time, earning an additional scramble every 150,000 points
Dynamic Level Generation: Ensures each game is different no matter how many times you play 
PopCap's current library of iPhone and iPod touch titles also includes Bejeweled™ 2, Peggle™ and Bookworm™.  The highly acclaimed Plants vs. Zombies™ will be available soon.
Download Chuzzle now : CLICK ON THE BUY NOW button
Best iPhone apps at AppStoreHQ
About PopCap
PopCap Games (
www.popcap.com
) is the leading multi-platform provider of fun, easy-to-learn, captivating video games that appeal to everyone from age 6 to 106. Based in Seattle, Washington, PopCap was founded in 2000 and has a worldwide staff of over 240 people in Seattle, San Francisco, Chicago, Vancouver, B.C., Dublin, and Shanghai. Its games have been downloaded more than 1 billion times by consumers worldwide, and its flagship title, Bejeweled
®
, has sold more than 25 million units across all platforms. Constantly acclaimed by consumers and critics, PopCap's games are played on social networks, the Web, desktop computers, myriad mobile devices (cell phones, smartphones, PDAs, Pocket PCs, iPod, iPhone and more), popular game consoles (such as Xbox, PlayStation and DS), and in-flight entertainment systems. PopCap is the only "casual games" developer with leading market share across all major sales channels, including Web portals, retail stores, mobile phones, MP3 players, and game devices.