Recently Capsule Computers had the complete pleasure of meeting and briefly interviewing Xbox Live Director of Programming – Larry Hryb : MAJOR NELSON.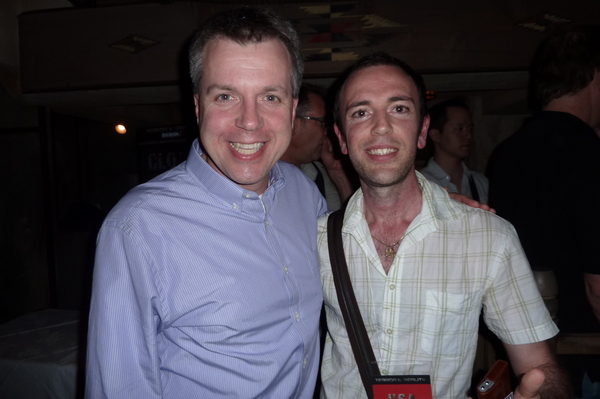 Larry was very kind to take some time out from his busy schedule to answer a few questions for Capsule Computers and for all his fans around the world.  And I do mean AROUND THE WORLD.  Major Nelson is a well known and very respected member of the gaming community.  He has his own Blog over at :
His Twitter where he has over 60,000 followes :
http://www.twitter.com/majornelson
Major also produces his weekly Xbox show-gram entitled : Xbox Live's Major Nelson Radio that is available via his website and also on iTunes.  Major Nelson's weekly radio show is the longest running Microsoft podcast in history, a total of 335 episodes have been released thus far.
Major Nelson also enjoys bringing you all the latest news and updates from the world of Xbox 360.  One such way you can get to see Major is via your Xbox 360 console, and tune in to Major's Minute.   You can also access Major Minute via the Xbox website here :  MAJOR'S MINUTE
And now site back relax and enjoy the interview.
 -=-
Capsule Computers : What's the full story behind your gamertag : Major Nelson ?
Major Nelson : When I started working for the Xbox team, I decided I needed Gamertag that the community could contact me through. I came home one night and my Tivo had recommended an old 60's TV show called I Dream Of Jeannie. As I watched this show, I realied that Major Nelson (the main characters name) was living a great life: He was an astronaut, lived on the beach and was really having a great time. I thought what a perfect gamertag! (Disclaimer: I am not, nor ever was an astronaut. I also don't live on a beach…yet) Now I also must tell you that I do have a private Gamertag that I've had since the early Xbox LIVE Beta 🙂
Capsule Computers : How long have you been at Xbox / Microsoft and what's your Xbox 360 Tenure number ?
Major Nelson :  I have been at Microsoft almost 10 years.  Major Nelson's tenure is 5
Capsule Computers : Your weekly podcast is now the longest running Microsoft podcast in the History.  What do you believe is the secret to its success.  What new features can you bring to the podcast to keep it fresh and interesting to your listeners ?   One such suggestion for your podcast .. Would you considered Co-Hosts such as fans from across the world to participate in your weekly podcast.
Major Nelson : Thanks for the kind words. There are a couple of elements that may lead to the successful show.  One is the audio quality. I try to make the show sound as good as possible. That requires a lot of time and investment in equipment and production time. The second is that I have evolved the show in many ways. Due to my position on the Xbox team, I am afforded access to some of the top names in the gaming industry…so guests certainly add a lot to the show. Secondly, I now have two co-hosts. e and lollip0p. These are two very smart people I work with at Xbox who work on very different parts of the business.  They held provide a unique view from their vantage point on the daily topics.
Capsule Computers : What does Major Nelson get up to when he is not working ?  What are your hobbies ? What do you do in your free time ?
Major Nelson : I enjoy spending time with my wife. She makes me laugh and she is a lovely lady who is very understanding of what I do.  Beyond that I enjoy all the basic geek fun stuff: Technology, gadgets, SciFi and of course gaming.
Capsule Computers : What is your favourite holiday destination and why ?
Major Nelson : I've never been to Bora Bora. That to me sounds like what I expect to be my paradise 🙂
Capsule Computers : Have you ever considered coming down to visit Australia for work or pleasure ?  Major Nelson has quite a large following of fans down-under.  Do you have any plans to visit the sunny shores of Australia anytime soon ?
Major Nelson : I have been to Australia! I thoroughly enjoyed my time there when I was down for the Xbox Water Balloon toss in Sydney. It was a once in lifetime experience and I can't wait to get back to enjoy more of the country.
-=-
There you have it.  Capsule Computers would like to thank Larry (Major Nelson) once again for his time in answering these questions and we wish him all the best in the future.  Keep up the great work and thank you for keeping all the Xbox fans around the world updated with all the latest news.
–