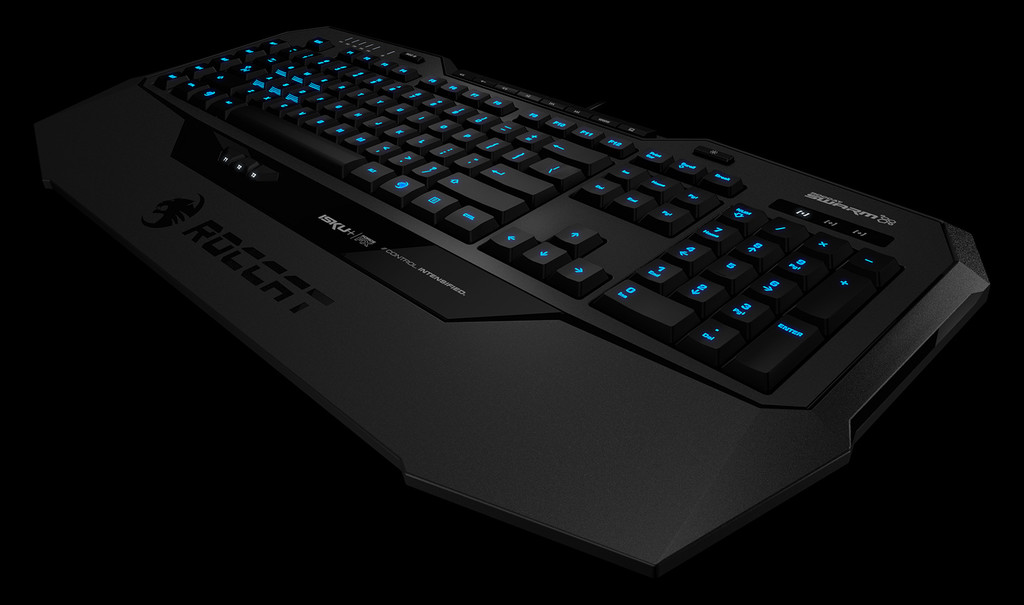 Easily one of Roccat's most intriguing announcements at CES 2017, the Roccat Isku+ Force FX keyboard is the first to boast Roccat's new pressure sensitive switches. By adding a polymer piezoelectric layer to the robber dome switch, the Roccat Isku+ Force FX keyboard can differentiate three different pressure levels. Players can then bind different key combinations to the pressure levels. For example, a player could change movement speed in an FPS based on pressure. A light touch would cause the player to walk, while medium pressure would speed things up to the normal jogging pace, and pressing hard on the key would trigger an all out sprint. The Roccat Isku+ Force FX switches are located on the QWEASD keys, which means ESDF gamers will lack the functionality on the F key.
Additionally, the keyboard is armed with RGB LED lighting on all of the UV-coated keys. The keyboard layout is the standard Roccat design that has five macro keys on the left hand side, has three under the keyboard, and replaces the dreaded Capslock key with an Easy-Shift[+] key that doubles the available macros. The keyboard works with Roccat's new Swarm software suite and is Roccat Talk ready.
The Roccat Isku+ Force FX costs $99.99 USD. An updated Roccat Isku+ without the Force FX technology is also available for $89.99 USD.