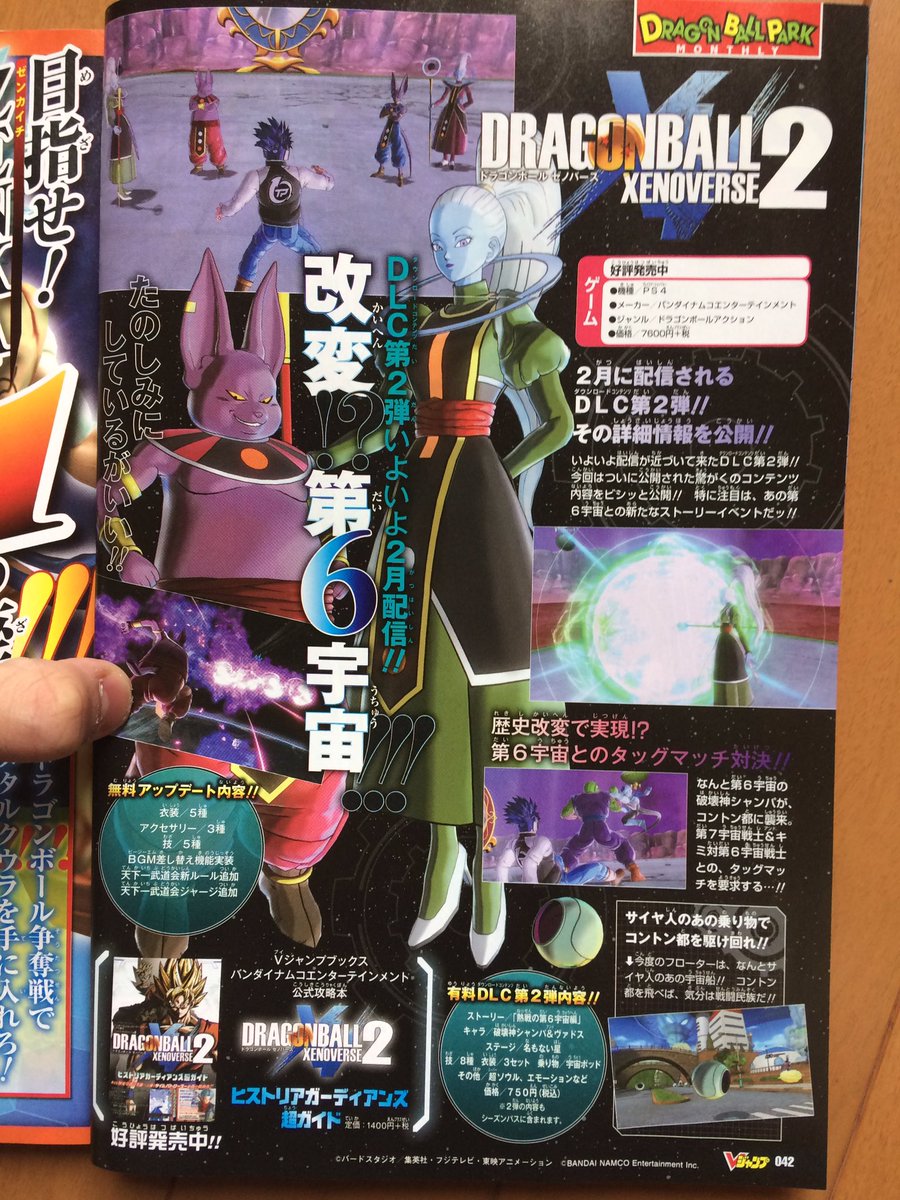 As always V-Jump magazine has leaked early in Japan revealing some more details on Dragon Ball Xenoverse 2 DLC Pack 2 and some free content to go along with that. We knew the above pictured characters Champa and Vados were appearing in DLC Pack 2 but we now know most of the other content that will be included.
DLC Pack 2 contents includes:
– A New Story Chapter (seems to be based off the Universe 6 vs Universe 7 arc, including at least the battle with Piccolo and Frost)
– 2 New Characters (Champa and Vados)
– 1 New Stage (the arena that the Universe 6 vs Universe 7 tournament took place)
– 8 New Attacks (presumably most of these attacks will be taken from Champa and Vados)
– 3 New Costumes (I would say Vados outfit is almost definitely one of these)
– 1 New Vehicle (the Saiyan Space Pod is the new vehicle)
– More content still yet to be disclosed
DLC Pack 2 will be available for $9.99 USD or obviously be free if you already have purchased the Season Pass. This pack definitely seems to offer more value than DLC Pack 1 did. Similar to what happened with DLC Pack 1, a free update is also accompanying DLC Pack 2 that includes a decent amount of content itself including:
5 New Costumes
3 New Accessories
5 New Attacks
New Background Music Tracks
New Costume Award from the World Tournament
New Rule Added to the World Tournament
With so little to go off I can't really elaborate on what these extras will include but there were rumours that some classic songs from the anime series could be making their way into Xenoverse so the music could be those tracks. It was recently announced that Xenoverse 2 would be appearing on the Nintendo Switch in some capacity, possibly with all the DLC already included. Confirmed characters for future DLC include Super Saiyan Rose Black, Zamasu and Super Saiyan Blue Vegito.