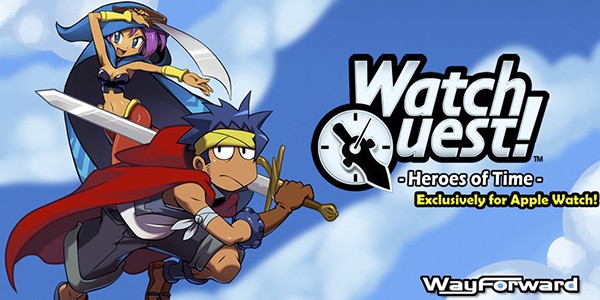 For those on the fence on whether to put yourself on the waiting list for a new Apple Watch, WayForward Technologies may have just given you the nudge forward. The developer has just announced they have made the first adventure game exclusively for the Apple Watch, appropriately titled Watch Quest!: Heroes of Time.
The game uses cross-play between your Apple Watch and iPhone. So, how can one play an adventure game on a watch? Let's let WayForward briefly explain:
Gameplay revolves around choosing a hero and equipping them on the iPhone, and then guiding the Hero via the Apple Watch as he or she travels lands, battles monsters, solves puzzles, and searches for treasures. Players are invited to play passively by selecting longer, easier quests and outfitting the hero up front – or by taking on more difficult quests which require foraging for items as you go.
TL;DR: Choose and equip characters on iPhone, battle and solve puzzles on the Apple Watch.
The game is also said to include favorite characters from other WayForward titles. I know that I can definitely see Shantae on the one-sheet below: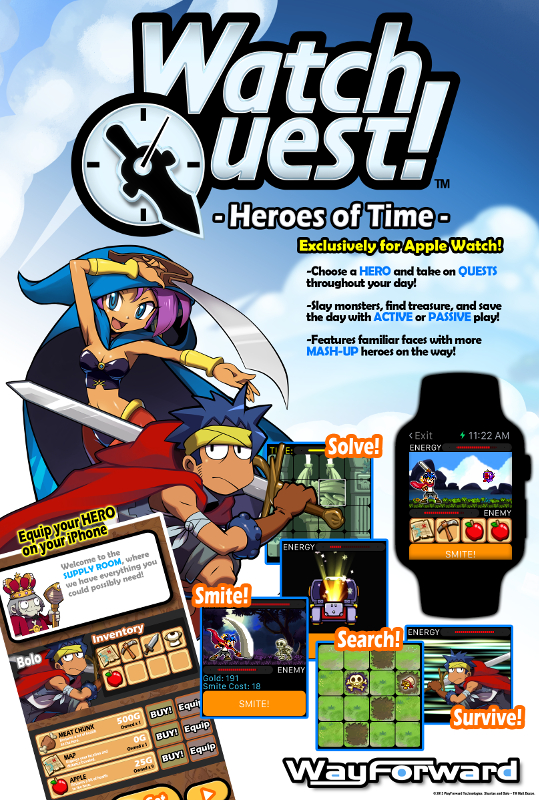 With WayForward brilliantly taking new ways of play and making them their own — like the Mighty Switch Force games when brought to the Wii U — so it will be interesting to see how WayForward makes use of the small Apple device.
Watch Quest!: Heroes of Time will be available at launch on the Apple Watch on April 24, 2015 via iTunes.