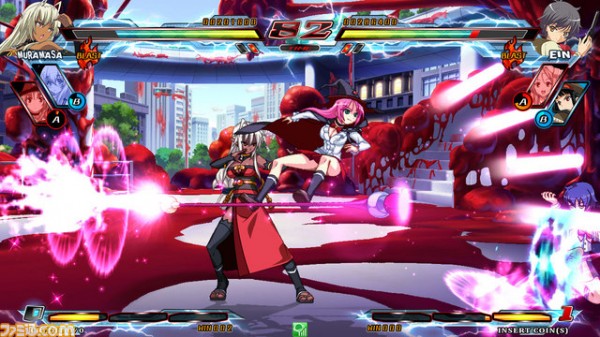 While there are always plenty of more serious fighting games out there, it seems that "waifu" style fighting games have been on the rise and it looks like Nitroplus and Examu are ready to bring another one of these anime fighting games to arcades.
Examu, the developer behind the Arcana Heart and Aquapazza titles, is going to bring "Nitroplus Blasters: Heroine Infinite Duel" to Japanese arcades in 2015 and it will feature characters from many of Nitroplus' titles. The game will feature a system that will allow players to choose two partner characters that will provide assist attacks and change up combo attacks depending on the combination.
So far a couple of scans and some screenshots for Nitroplus Blasters: Heroine Infinite Duel have been released and you can check those out below. As for the current roster, the announced characters include Saber from Fate/Zero, Nitroplus' mascot character Super Sonico, Sansei Muramasa from Full Metal Daemon: Muramasa, Ein from Phantom of the Inferno, and Mora from Vampirdzhija Vjedogonia as playable characters. The current partner characters are Spica from Star Mine Girl, Natsumi Aihara from Hello World, and Dragon from Dra+Koi.