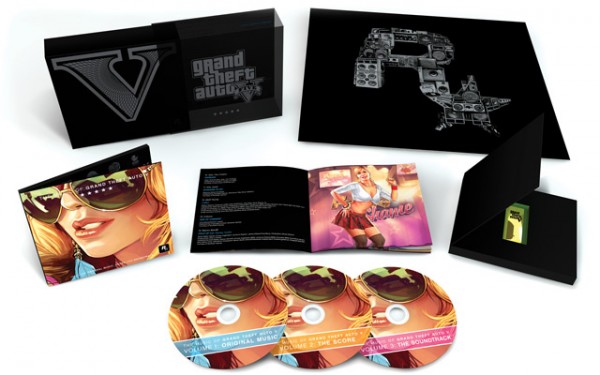 In celebration of the upcoming enhanced versions of Grand Theft Auto V, coming to the Xbox One, PlayStation 4 in two weeks, and PC on January 27, Rockstar have collaborated with Mass Appeal Records to release limited edition CD and Vinyl soundtrack collections.
The Music of Grand Theft Auto V limited edition collections include 59 songs featured in the game, including original tracks from A$AP Rocky, 'Tyler, The Creator', Twin Shadow, Wavves, Flying Lotus, Yeasayer and more. Additionally, the original score composed by Tangerine Dream, Woody Jackson, The Alchemist + Oh No, and mixed by DJ Shadow, will also be included, along with other great music found on the GTA V radio stations. The vinyl collection will hold a total of six vinyl records, a full color booklet and an exclusive lithograph poster in a classic box-set. The CD collection includes three discs along with a branded Grand Theft Auto V gold brick-shaped USB Drive, artwork and poster all sealed in a special die-cut package.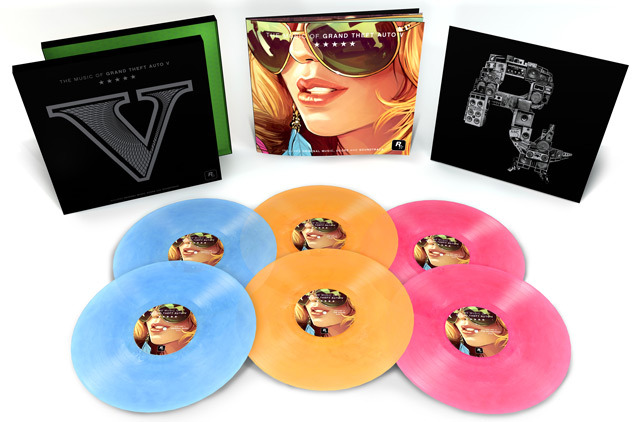 Each edition will be limited to a production run of under 5,000 units worldwide, so come December 9 at top online and physical record stores, you better secure your copy fast. On a related note, for those who are unaware, adding to the enhanced content of the re-release of GTA V, multiple DJs from the game are recording new radio content for their respective stations, including Big Boy, DJ Pooh, Nathan and Stephen from WAVVES, Kenny Loggins, Twin Shadow and Cara Delevingne as well as a few of the dial's biggest chatterboxes – Dr. Ray De Angelo Harris and Duane Earl.