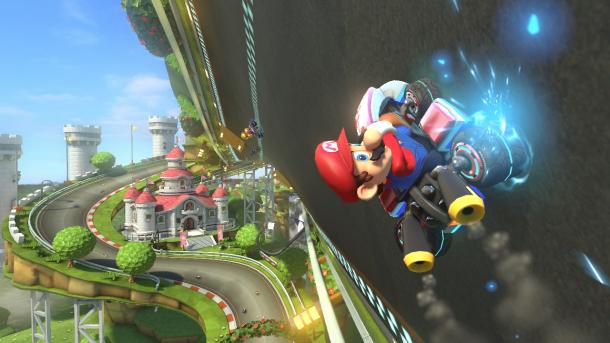 Nintendo has been full of suprises lately. Yesterday they revealed their E3 plans through a video starring a mecha-Reggie with laser death beam eyes and  today they completely caught everyone off guard with a Nintendo Direct specifically about Mario Kart 8 which has revealed pretty much every last detail about the game including the two final characters filling out the roster and a heap of online details. You can watch the full Nintendo Direct below which hosts the trailer towards the end. All the major points are summarised below.
The anti-gravity sections were inspired by the Rainbow Road track in Mario Kart 7 where racers could drive on the moon. Nintendo experiemented with upside down camera angles but found this to be too disorienting. In replays, the fixed camera option will still be available.
This was due to the increased power of the Wii U, which allowed them to add polygons to the curved corners.
During anti-gravity sections, bumping karts give you a speed boost, as does hitting these bumpers scattered on the course.
There will be 52 different customisation objects, including body kits, wheels and air gliders, all with different stats from 5 catergories including Speed, Acceleration, Weight, Cornering and Grip. Some of these are demonstrated in the video.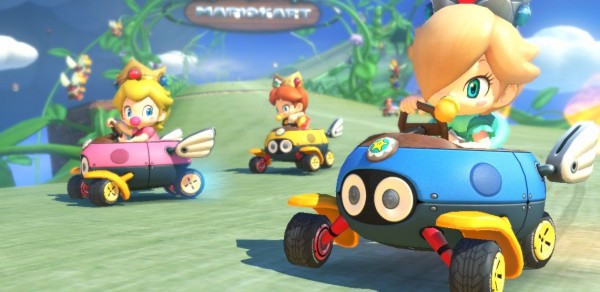 Baby Rosalina will be making her first appearance in the game as a light weight racer.
Pink Gold Peach rounds out the 30 strong roster (including Mii) as a heavy weight racer. This means Diddy Kong and King Boo will not be making an appearance.
The new items we introduced in our last article are reitarted on including the Boomerang and Piranha Plant. The Piranha Plant will also eat bananas on the course. The Crazy Eight and Super Horn were also shown off.
The Crazy Eight functions like the lucky seven from Mario Kart 7 and gives you 8 different items.
The Super Horn sends out a shockwave all around you, which sends your enemies into a spin and also can be used defensively to destroy any type of shell around you, including the Blue Shell!
Bikes and karts have been balanced as Nintendo was aware of the over dominance bikes had in time trials. It seems the wheelie function of the bike has been removed and karts will now go faster down straights. Which vehicle is faster will depend on the course.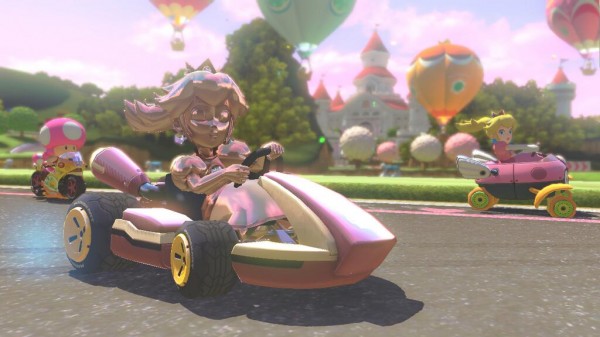 12 player online racing is back and voice chat will also be available.
Ghost data functionality is returning, so you can download the top 10 times as ghosts or the times of your friends.
If you manage to beat staff ghost data, you will earn a stamp for miiverse.
4 different multiplayer modes including worldwide, regional, friends and tournaments.
Tournaments can have specific rules and can be set to be participated in at a certain day and time. Character and vehicle restrictions and more can be set in these tournaments.
Mario Kart TV is finally detailed in full. You can watch your highlights of the race, play them in slow motion and rewind them. You can upload your videos to Mario Kart TV, watch other users videos and also watch the most popular vidoes determined by repeat views. You can post your comments on these reels with Miiverse stamps and drawing.
You can even upload the videos directly to YouTube if you have a Google Account.
A new trailer has been released, veiwable at the end of the Nintendo Direct.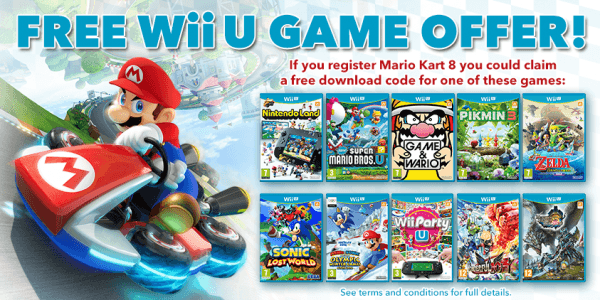 Nintendo are offering a free downloadable game to everyone who buys Mario Kart 8 on the e-Shop or at retail and registers it with Club Nintendo before the end of July. Europe and Australia/New Zealand have a choice of 10 titles while America has a choice of 4. These aren't just any titles either, this is pretty much Nintendos cream of the crop selection.
To make up for the lack of games in America, Nintendo have their own premium Wii U bundle which will include a Mario themed Wii Remote and red Wii Wheel shell.
Surely you have to be impressed with all that information and that incredible offer. Don't forget to watch the full direct video below to see all those highlights in action. This is looking to be the best Mario Kart yet. Let us know your thoughts on today's announcement below and which game you will be downloading free if you are picking up Mario Kart 8 around launch time.