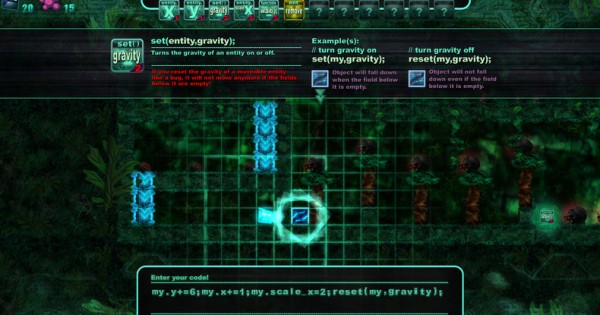 Square Enix's Collective platform for indie games  has been live for about a month now. Every Monday, a new pitch for an indie game gets posted. This week's pitch is Debugger v3.16 by German developers Work of Spider Entertainment. The game aims to teach basic programming skills in an entertaining manner.  The main campaign will teach basic scripting that will allow players to solve environmental puzzles. The game also comes bundled with tutorials that will teach players how to code simple games from start to finish. Vote on the future of Debugger v3.16 at the pitch page on Collective.
Additionally, there are still several popular pitches that have a few days before close.
---

Game: Leap of Fate
Developer: Clever-Plays
Genre: Action
Location: Canada
"New York, present day. A rogue occultist must undergo a deadly rite of passage, forcing him to face his own demons and choose his fate."
---

Game: Black The Fall
Developer: Sad Sand Sailor
Genre: Side-scrolling Shooter
Location: Romania
"This is an atmospheric side-scrolling shooter with puzzle solving elements. An odd and unexpected black and white dream."
---

Game: REalM
Developer: Arbor Sheep
Genre: Side-scrolling Puzzle Adventure
Location: Mexico
"A 2D side scroller puzzle-solving adventure about exploring a world of dreams… or nightmares?"
---
Collective is a platform that gives indie developers 28 days to pitch their game to the public. If the pitch is received well by the voters, then Square Enix will examine the project, make recommendations, and possibly offer their support in mentoring and arranging for crowd funding via IndieGoGo.