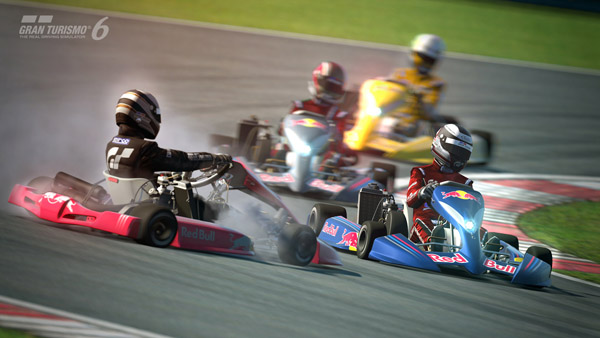 Gran Turismo 6 has had players racing around tracks, tackling wicked S-Bends and speeding down Mount Panorama for a few weeks now, and the guys over at Sony and Polyphony Digital have proudly launched the latest update for their impressive racer. Just in time for the holidays, players can grab themselves two new Red Bull Cars as well as the Red Bull X Challenge.
The Red Bull X Challenge is an innovative collaboration with the Infiniti Red Bull Racing, and includes 2013 Formula 1 World Champion Sebastian Vettel mentoring players on how to perfectly handle a formula racing machine. The two cars; the 'Red Bull Racing Kart' and 'Red Bull X2014 Junior' will arrive in dealerships in-game via the update, while the Red Bull X2014 'Standard' and 'Fan' cars can be expected to join them at a later stage.
This is a free update, so if you have GT6 then there is no opportunity to not download this bad boy today! Remember to put pedal to the metal and to always stay tuned to Capsule Computers for all the Gran Turismo news as it becomes available.