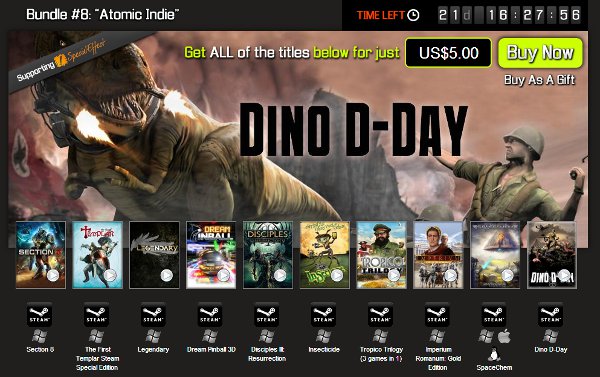 Bundle Stars is at it again with their 8th bundle. This time working with SpecialEffect to help those with disabilities to enjoy games, the Atomic Indie Bundle collects 12 games for the low price of $5.00 US (AUD$5). This great price offers players a saves of up to 96% compared to getting them piecemeal. Those wanting the full low down on all the games and what their about can find their official descriptions below.
Tropico Trilogy: Get the original Tropico, Tropico 2: Pirate Cove, Tropico 3 and the add-on "Absolute Power". In these strategy and simulation games players choose to be the ruler of a banana republic or a feared pirate king as they build their empire. This fantastic Trilogy gives hours of gameplay with over 100 game scenarios to complete and infinite replayability with customisable sandbox modes.
Section 8: Is a large-scale, sci-fi first person shooter game where fast-paced action meets military strategy. In the full single-player campaign, gamers can customise equipment load outs and dynamically manipulate the flow of combat with on-demand vehicle requisitions, strategic asset deliveries, dynamic  combat missions, and the ability to drop anywhere on the battlefield from 15,000 feet above.
The First Templar: In this co-operative action adventure game players will follow the path of two unlikely heroes on their search for the Holy Grail. The heroes face powerful opponents at every turn, offering a captivating campaign, engaging in fierce action-packed combat that can be enjoyed as a single player or co-operatively with a friend.
Disciples III Resurrection: In this grand sequel of the series a new race, the ruthless and merciless Undead Hordes, ascend to power. With over 70 hours of gameplay, two storyline characters, four leaders, two bosses and over 50 new units, gamers will enjoy a dramatic and intriguing plot with countless exciting quests.
Insecticide: An action adventure which will see gamers lead a team on a bug hunt to help solve a crime of epic proportions. Collect clues, solve puzzles and use an arsenal of ingenious bug weapons to confront your suspects in this real-time 3D third person view which combines action-based platform with weapons-based combat.
Space Chem: In this design-based indie puzzle game, take on the role of a Reactor Engineer working for SpaceChem – the leading chemical synthesizer for frontier colonies. Streamline designs to meet production quotas and survive encounters with the sinister threats that plague SpaceChem in over 50 mind-bending puzzles.
Dino D-Day: In this action-packed multiplayer shooter, players are transported to 1942 where Adolf Hitler has succeeded in resurrecting dinosaurs which are trampling Europe and the Mediterranean. Join forces with friends and battle to serve the cause of the Allied Nations or the Nazis. Choose from seven playable dinosaur classes, nine human classes and 26 classic World War II weapons.
Dream Pinball 3D: Turn your PC into six multi-level, 3D pinball machines with Dream Pinball 3D. With six different themes and single player and multi-player modes the game features balls made of six different materials all with different ballistic properties.
Legendary: In this mythical first person shooter players must return the creatures of ancient myth, legend and lore back to Pandora's Box, in order to keep society safe. With single-player and multiplayer option, gamers can take part in three-way battles to combat the supernatural and take on awe-inspiring fire fights.
Imperium Romanum: This strategy game is set in the time-honoured Roman Empire, with players taking on the role of governor of a Roman province with the task of building a well organised, prosperous and commanding settlement. With 19 challenging scenarios gamers will need to use comprehensive economic and strategic leadership abilities to succeed.
More of a visual person? Players can also check out the Atomic Indie Bundle Trailer embedded below. Players wanting to cash in on this bundle can check it out for themselves HERE, plus players can still purchase The Outlaw Bundle with its limited time remaining if they missed out on it before.