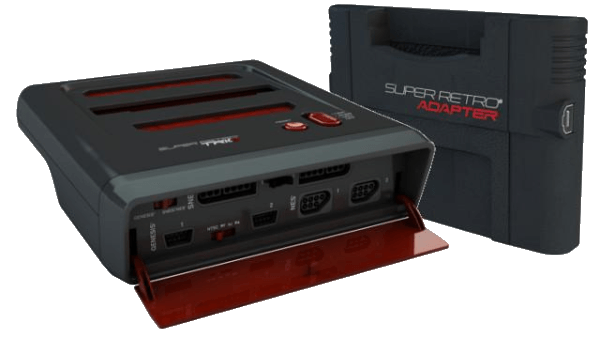 Innex, Inc. has become one of the fastest growing international video game accessory distributors, and now they want you to kick it old school.
With their announcement of the Super Retro Console and Adapter, Innex is giving fans of retro video games a chance to play their old school console games without having to buy a time machine! It will let players pop in their NES, SNES, Genesis, and Game Boy Advance games and go.
The console has been developed by Retro-bit and is being distributed exclusively by Innex. They will have a booth set up at this year's upcoming Electronic Entertainment Expo (E3) in Los Angeles from June 11 to June 13.
Product highlights include:
• Super Retro Trio – Play classic NES, SNES and GENESIS games directly from the original cartridges onto the SR3. The modern design of this 3-in-1 home system allows for less clutter and more gaming. It's equipped with 3 cartridge slots, 6 controller ports compatible with original or third party controllers, two 16-bit game controllers, an S-video connection, an AC adapter and an AV cable. SRP $69.99

• Super Retro Adapter – Play original GBA game cartridges directly on the SNES or any third party 16-bit console. The Super Retro Adapter comes equipped with a GBA link cable port (link cable sold separately) for connecting of up to 3 Gameboy systems which allows you to play 4-way gaming. SRP $39.99

• Super Retro Bundle – Combines both the Super Retro Trio with the Super Retro Adapter into one awesome bundle of retro fun. SRP: $89.99
For more information, be sure to check out Innex's official website here.