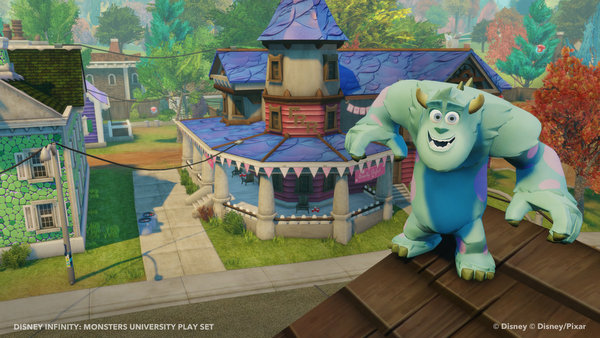 Disney Infinity is the new toy based game that allows gamers to insert their Disney Infinity toys into the virtual realm. Monsters University received the star treatment today with the release of new screenshots,character images, and a gameplay trailer.
Monsters University is Pixar's upcoming prequel to the hit movie Monsters, Inc. The series goes back to Mike and Sully's time at Monsters University as they train to be the finest fear raising monsters. Like any good university, Monsters University's rival is Fear Tech and there is a prank war going on for school pride. Mike, Sully, and Randy are planning to take Fear Tech on at their own campus. Fear Tech's campus does not appear in the film, so game developers Avalanche Studios worked with Pixar to design Fear Tech. Along with the previously announced Toybox Mode, gamers will be able to experience Monster University for themselves by customizing the campus and pulling off pranks.
Disney Infinity is scheduled to be released on August 18th, 2013 in North America and August 20th in Europe.