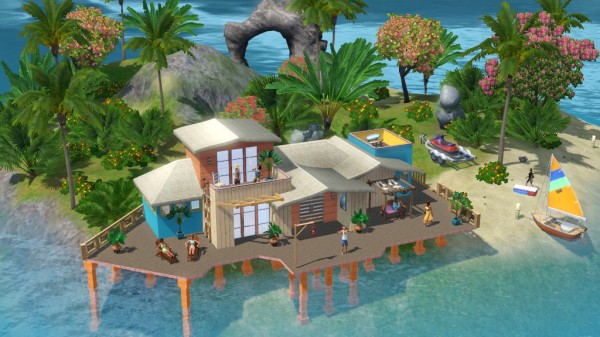 Just last week more information was unveiled about upcoming The Sims 3 Island Paradise expansion pack HERE, but now EA has revealed even more in a Live Broadcast about what players can be expecting from The Sims 3 Franchise for the rest of the year. It seems like the expansion pack wont be the only thing avid players can look forward to as a new stuff pack and world were announced.
The Sims 3 Movie Stuff includes all the objects film fans and genre fans could hope for with a variety of themes such as classic Western and horror. The stuff pack will include furniture, decorations, and clothing to add to players' collections in designing the perfect house. While the new world to be added to The Sims Store, Origin, and retail locations is The Sims 3 Dragon Valley. With new locations for Sims to visit, new objects and clothing for the Sims, and even new Sims themselves, Dragon Valley brings plenty of additional things, but none of which can hold a candle to the baby dragon it will also add.
Players that want to see the The Sims 3 Live Broadcast to get a look at all the upcoming releases this year can watch the archived video HERE. While The Sims 3 Island Paradise will be releasing at the end of June and the Movie Stuff will be releasing in September, the release date for Dragon Valley has yet to be announced. Stay tuned for more on the Movie Stuff and Dragon Valley in the months ahead.