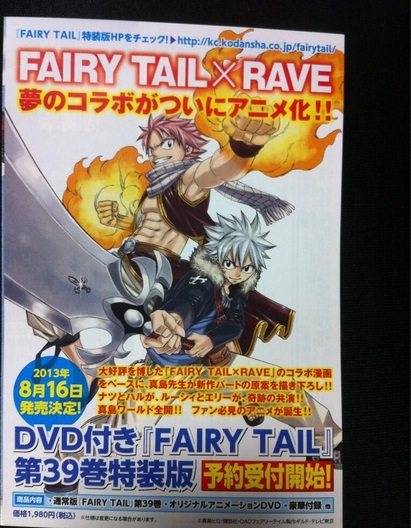 Manga artist Hiro Mashima has revealed via Twitter that his crossover manga that was published in 2011 will be animated. The anime itself will be included as a DVD in the limited edition of Fairy Tail's 39th volume on August 16.
FAIRY TAILとRAVEのコラボ漫画がアニメ化です!39巻DVD付き特装版として発売されます。漫画原作では登場しなかったムジカやレットも登場するよ。 pic.twitter.com/ruIBlWeyLn

— 真島ヒロ (@hiro_mashima) April 15, 2013
The story features the main characters from both Fairy Tail and Rave (Natsu and Haru) as missing, with the female heroines (Lucy and Elie) setting out to find them. The anime project is being personally supervised by Mashima himself, with new art and scenes being created outside the manga publication.
Fairy Tail finished airing on March 30 this year, but is "To Be Continued", with Mashima promising it isn't over yet. A rerun of the series is being planned for April ahead of its continuation.