Categories:
Action
,
E3 2012
,
Family
,
News
,
Nintendo 3DS
,
PC
,
Playstation 3
,
PS Vita
,
Racing
,
Sega
,
Wii U
,
Xbox 360
|
0 comments
|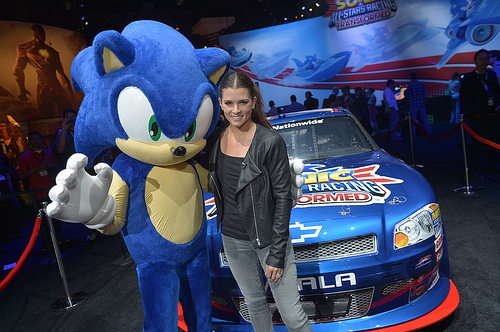 SEGA of America announced at this year's E3 that Danica Patrick will be appearing alongside Sonic the Hedgehog when he gets behind the wheel again in Sonic & All-Stars Racing Transformed. Players will speed across land, air and water in fully transforming vehicles.
Known for her talents behind the wheel as a NASCAR and JR Motorsports driver, Danica will be a playable character with customized vehicles in Sonic & All-Stars Racing Transformed. Gamers will get the chance to test their racing abilities as Danica against an All-Star cast of SEGA characters including Sonic, Knuckles, AiAi and others.
Sonic & All-Stars Racing Transformed will be available on the Xbox 360, PlayStation 3, PlayStation Vita, Nintendo 3DS, Nintendo's Wii U and PC Digital Download this holiday season.
Related Articles for this post below: