You thought I'd forgotten you, didn't you? I admit, it has been a while since I posted out my progress for the month of August (slightly earlier than usual, on the 22nd of the month), but I've still very much been completely one game's achievements to 100% each month, with September's box receiving a glorious little tick in it.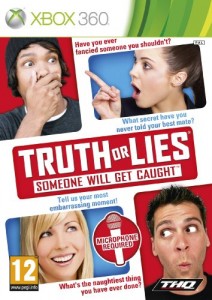 September's game was Truth or Lies, a game renowned for being easy enough to get the full 1000 gamerscore on. I suppose appearances can be deceiving, though. Not only is Truth or Lies one of the worst games I think I've had the misfortune to have played on Xbox 360, but it is home to some of the most elaborate achievements I've ever unlocked. The game does little more than guessing whether you are telling a truth or a lie, presumably figuring out that with a 50/50 chance it's bound to get some right. But this makes it extremely frustrating when getting achievements like for doing X amount of lies in a row, as there is no consistency. This is where the elaborate achievements come into play. Someone worked out that the game guesses whether you're fibbing or not based on the pitch of your voice as you speak into the mic. Therefore, if you achieve a consistent tone, it would either be constantly lying or constantly truthful.
So there I was hauling a keyboard piano within reach of the microphone, playing a suggested note and trying to keep perfectly still to avoid any audio interference. It was ridiculous and would have been an odd sight for any neutral bystanders who didn't know why I was doing it. The things I do for you…
Anyway, with this month's 100% completed game taken into account, here's how the overall month-on-month breakdown is looking:
December 2010
Harm's Way 200/200
January 2011
Faery: Legends of Avalon 200/200
February 2011
Spare Parts 200/200
March 2011
Fist of the North Star: Ken's Rage 1000/1000
April 2011
Doritos Crash Course 200/200
May 2011
Ghostbusters: Sanctum of Slime 200/200
June 2011
TRON: Evolution 1000/1000
July 2011
Lazy Raiders 200/200
August 2011
Googly Eyes 50/50
September 2011
Truth or Lies 1000/1000
Let me know in the comments what you thought of September's antics in keeping with this achievement challenge. It looks like I will be able to make it to the 12-month milestone, as it would be a little sad to pull out now. Any suggestions/advice/tips/donations are always welcome. I've not yet decided on a plan of action for October but X-Men on Xbox Live Arcade could be a possibilty, although I would need to round up players for some of the multiplayer achievements.
For previous updates, follow the links below:
http://www.capsulecomputers.com.au/2011/07/jacks-achievement-challenge-a-game-a-month/
http://www.capsulecomputers.com.au/2011/07/jacks-achievement-challenge-july-2011-update/
http://www.capsulecomputers.com.au/2011/08/jacks-achievement-challenge-august-2011-update/