The PlayStation 3 Slim is quickly boosting Sony's reputation in the gaming industry in terms of availability to the public and pricing. Like most hardcore gaming consoles, you can't really take it on the road.. or so we thought.
The Japanese gaming hardware company, Hori, has come up with a fantastic way to bring your Sony PlayStation 3 on the road. Hori has recently announced that it plans to release an HD monitor that comes with an attachment that encases the PlayStation 3 Slim and allows users to play console games on the display. The monitor is an 11.6 inch screen, has in-built speakers and can fold over the PlayStation 3 console for easy portability. The only downside is that you would need to have an AC outlet in your car, or wherever you are to power up the console.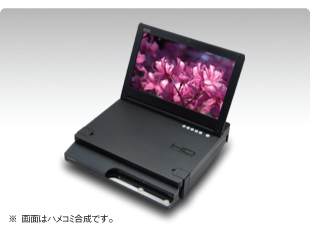 Hori has told us that they plan to release this accessory on the 27th of May in Japan for around $260 US. The monitor supports both PAL and NTSC, which means PS3 consoles around the world will be compatible.