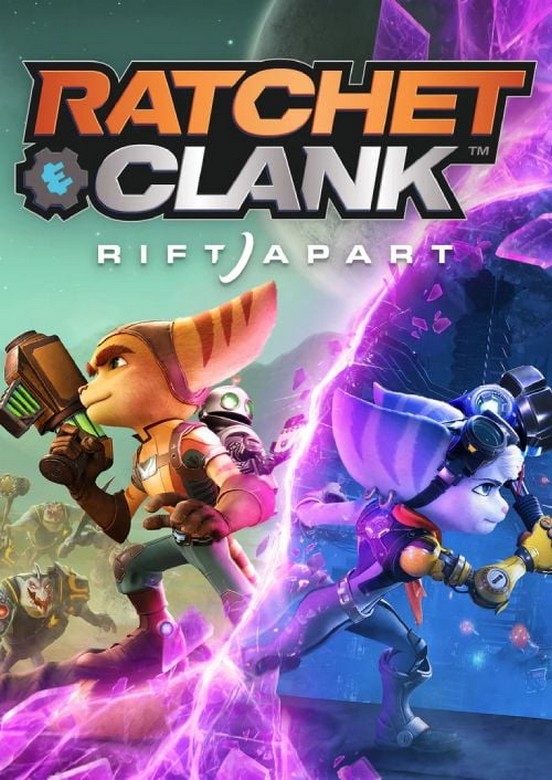 Developer: Insomniac Games
Publisher: PlayStation PC
Platforms: PlayStation 5, PC (Reviewed)
Release Date: 26 Jul 2023
Price: – $59.99 USD – Available Here $124.95 AUD – Available Here
Overview
You're familiar with the expression "better late than never", right? It's something I use whenever I see a previously exclusive console title finally making its way to PC. Although, the choice of titles has been a bit puzzling, to put it mildly. Still no sign of Bloodborne or Ghost of Tsushima but we did get those Spider-man games, Days Gone and the first God of War. And now we have a……..ninth installment in the Ratchet & Clank series. Wait, what?
Story
To be fair, this series started on PS2 going all the way to PS5 so having all of them released on PC would be nothing short of impossible now. Not to mention that some of the games look incredibly dated so releasing them now would be an incredible waste of time and resources. Either way, we get to play the latest (and best-looking) game in the series so far so let's get right on it.
A celebratory parade for Ratchet & Clank is cut short after their antagonist Dr Nefarious tries to ruin the day. Things go from bad to worse when Nefarious makes Ratchet shoots the Dimensionator device on accident thus endangering the whole fabric of time and space. Dimensional portals start appearing randomly throughout the levels so it is up to us now to restore the fabric and repair dimensions as well as putting the stop to Dr Nefarious for good.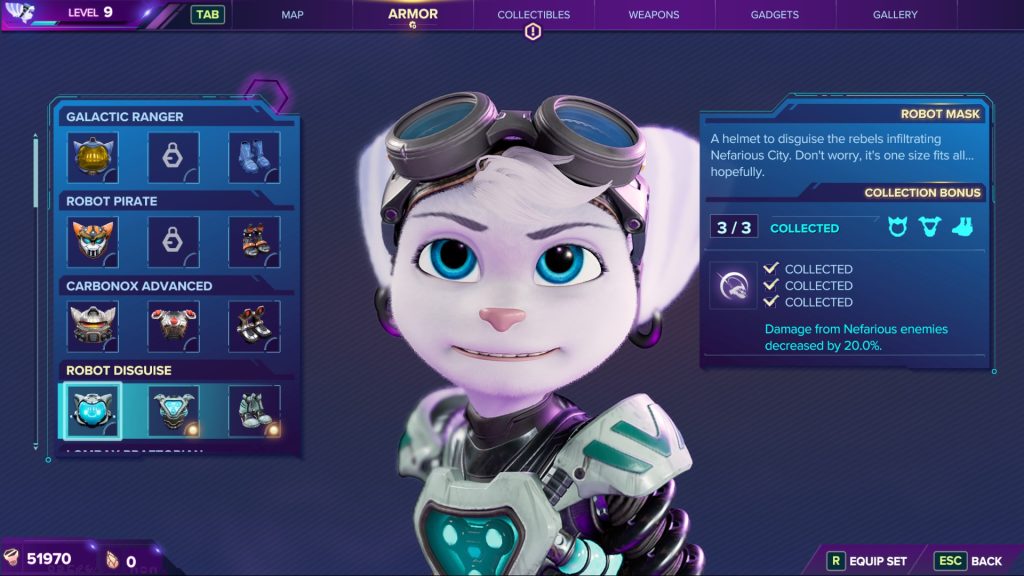 Gameplay
One thing that's been a staple of this series is a selection of ridiculous weapons and Ratchet & Clank: Rift Apart is no stranger to that. Do you want to turn enemies into flowers or attack them with a dozen of tiny buzzsaws? How about turning them into low res collection of pixels? There is a gun for that too. Or a weapon that drops objects on their heads from other dimensions? Despite the weapon craziness, one thing is for sure – shooting them never felt so good. Speaking of dimensional tears and lifts, now you have a rift tether at your disposal that can be used to close the gaps efficiently. You don't feel like traveling to the other end of the map or a level section? No worries, with one button press you can bring that part of the level to you instead!
On top of that, the game is filled with secrets and optional content. Checking out every nook and cranny might lead you to new armor sets for your character and digging deeper for hidden spybots throughout the level will eventually reward you with RYNO 8, one of the most powerful weapons in the game.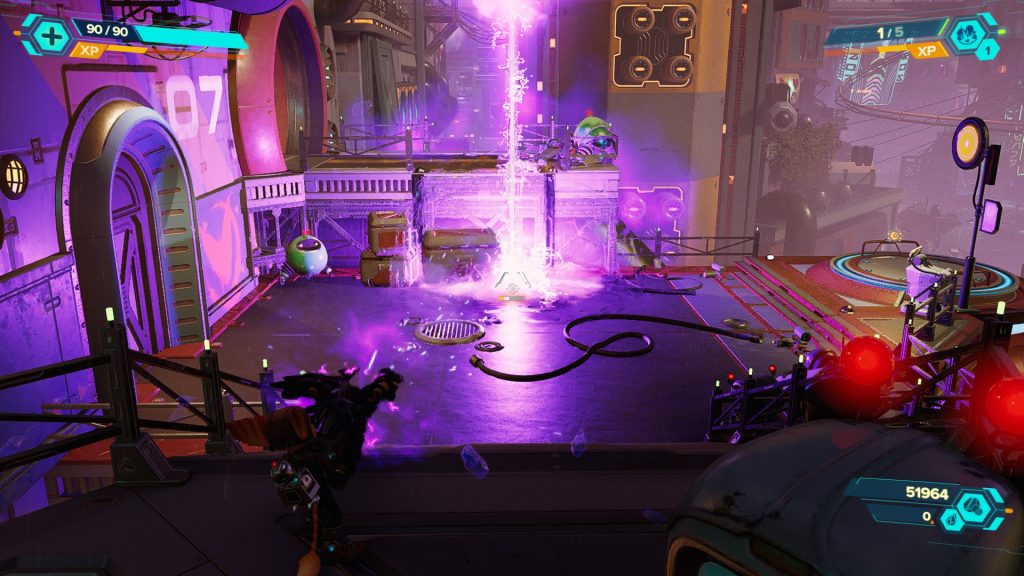 Visuals
One thing about the Nixxes team is that they've been doing stellar work so far when it comes to porting previous console exclusives to PC. I wrote praises about them so far regarding Horizon: Zero Dawn and Marvel's Spider-Man Remastered games. Ratchet & Clank: Rift Apart is no exception to that as well. Even if you have a potato PC you could probably run this on medium without breaking a sweat cause the optimization is just that good.
The level of design in this installment is amazing and there is a fine mix of cyberpunk/industrial-heavy levels followed by planet(s) that are rich in flora and fauna. There is one particular level later in the game where you have to shift between dimensions to get to the end and fix something and it is nothing short of remarkable and reminiscing of that cult Effect and Cause level from Titanfall 2.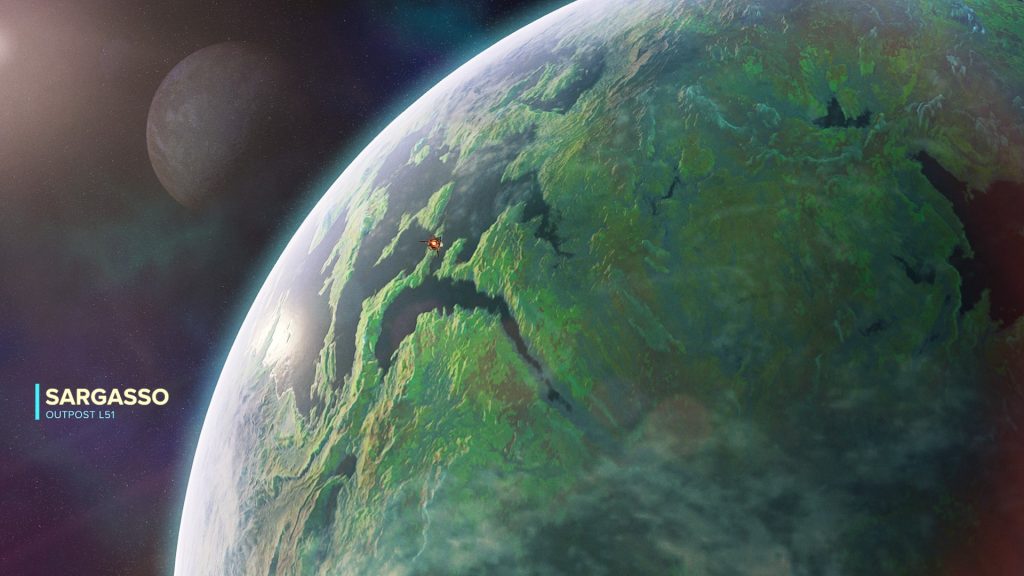 Audio
When it comes to sound, I did experience some random absence of audio when booting up the game but that was easily fixed by restarting it. Other than that, the voice acting and soundtrack are on par with the visuals and everything else. If you feel like some tracks are better than most, there is a handy jukebox in a space cantina where you can be a pretend DJ (and annoy the guests) by playing your favorite tracks.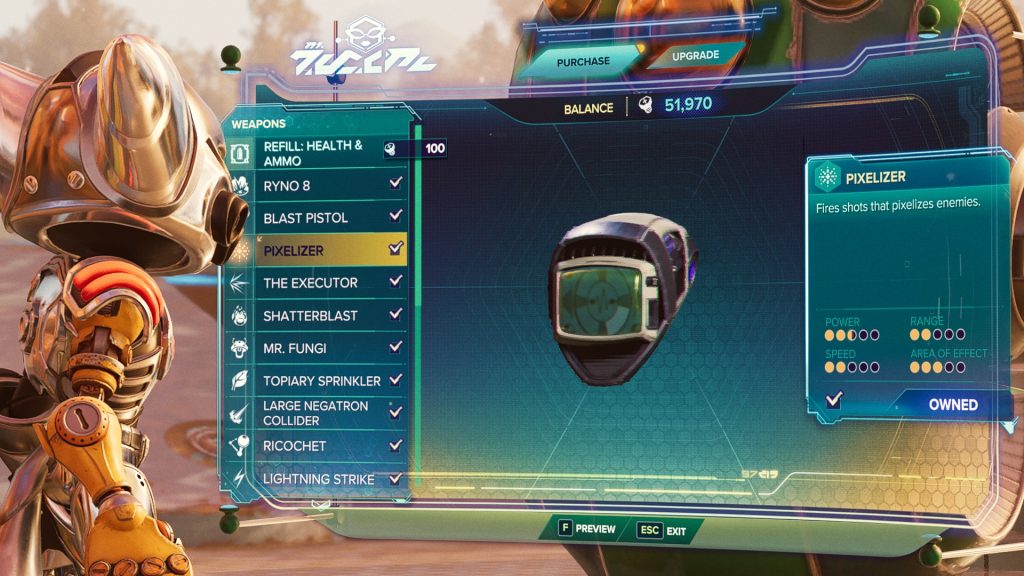 Overall
There isn't much bad to say about this game. One thing I can tell you for sure is that the system requirements for the game on the Steam store page are a lie and the game can run on far lower configurations than those that are listed as minimum. Aside from above mentioned audio bugs, I did experience some random crashes here and there in my first 6 hours of playtime but the latest hotfix seems to have corrected that. In any case, Nixxes has done it again. They have proven themselves time and time again that they are "the studio" when it comes to porting to PC.
Capsule Computers review guidelines can be found here.