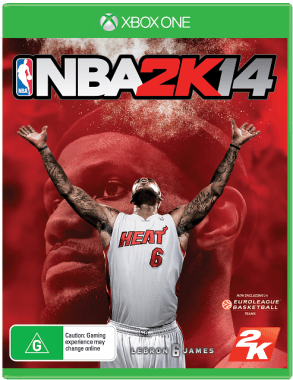 NBA 2K14
Developer: Visual Concepts
Publisher: 2K Sports
Platforms: Xbox One (Reviewed), PlayStation 4, Xbox 360 (Review Here), PlayStation 3, PC
Release Date: Out Now
Price: $99.95 – Available Here
Overview
"17 Years in the Making" is scrawled across the screen as the Bandini remix of Ennio Morricone's "The Ecstasy of Gold" plays. NBA 2K14 is 2K Sports' centerpiece title. Though everyone looks to both 2K and EA as the kings of sports games, the former has blitzed the competition for many years. NBA Live's 2014 return to the market didn't stand a baller's chance in hell. And while NBA 2K14 on last-gen spotlighted Lebron James' 'Path to Greatness', the developers have excised the mode on the Xbox One and PS4 versions in favor of the brand new MyGM mode, allowing you the opportunity to manage everything from ticket prices to player contracts within a chosen team. There's an obvious graphical leap between the generations, but NBA 2K14 is much more than a prettier face.
Gameplay
Since NBA 2K13, the franchise has undergone yet another control scheme overhaul, the frequency of which is getting absolutely ridiculous. Thankfully, this new scheme works fairly well, and may well form a solid basis for future iterations to tweak and further perfect without having to frustratingly start from scratch. Ball control has been (once again) re-assigned to the right thumbstick. Shots, lay-ups, dunks, dribbling and tricks are all achieved through this "Pro Stick" control scheme. This may simplify things for many, but that doesn't mean NBA 2K14 is an easy game to get a grasp of… in fact, it's probably tougher than ever. Even on Pro difficulty (the second lowest), the CPU's defences seem unbreakable at times, and they rarely miss. The A.I. adapts as coaches implement new game-plans accordingly (can also be done manually) and players have specific personality traits that affect their performance and what they are capable of, governed by Emotion+. Mastering the more advanced controls – such as 'positional playcalls' – is a worthy, and sometimes necessary endeavour here. Patience is imperative. If you struggle to remember all the different techniques, you can enter Practice mode from NBA Today.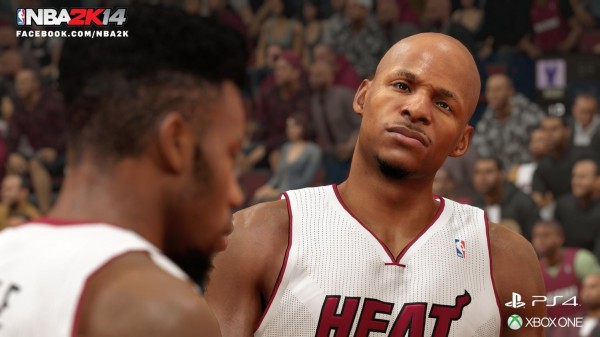 Speaking of, NBA Today is an entirely unique experience compared to last-gen's. Now you receive daily reports, highlights and real clips from the previous night's real-world fixtures. From this screen, you can also engage in Quick Matches (Exhibition) and Blacktop games – either 1v1, 2v2, 3v3 (all half-court) or 5v5 (full-court).Then you've got MyTeam, a mode reminiscent of FIFA's Ultimate Team. Your goal is to build up your standard deck of player cards, comprised of personnel across the whole league. Starting with a random offering, you must win 'Tournaments' and regional matches in 'Domination' to earn card packs or MT (MyTeam points), in order to purchase them, before heading to the 'Road to the Playoffs' with a strong enough side. They are all under contracts too (sound familiar?), so you can't afford to be flippant in how many games you play with each… they have to be worthwhile rotations. As for the online multiplayer component, The Park is mystifyingly only accessible through MyCareer. It enables literally 100's of players around the world to hang out in the virtual park and ease into a friendly game of pick-up… although I personally didn't encounter too many other, and barely dabbled.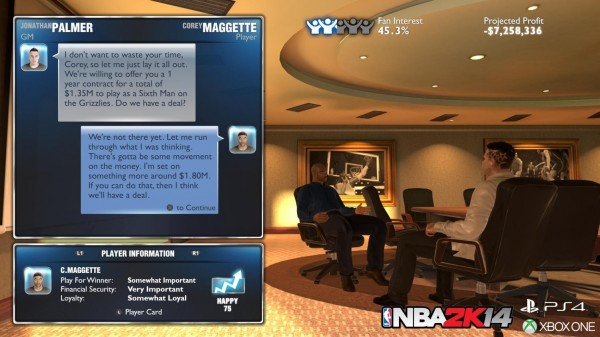 Now, finally, let's get to the true meat and potatoes. MyCareer has been radically changed since you last knew it, now becoming a story-driven experience that you take your created character through. During games, a performance rating is affected by your decisions. For instance, if you start out with a C+ rating and make a string of bad passes, or cause a turnover, it'll incrementally drop to a C and so on and so forth. Not to revisit the franchise comparisons again, but this system is extremely similar to that found in FIFA's 'Be a Pro' mode. The camera angle – by default – looks down court, all the while attached to your avatar. In the middle of play, your coach may request certain things from you, such as cutting down the opposition's lead down to two. These are dynamic goals, and completing them will add a bonus to your earnings at final buzzer. The story itself takes you from rookie to the big leagues, taking part in the draft and learning to breed chemistry with your new team whilst attempting to stand out and prove the best prospect in the sport. There are people who will try to sabotage your career and even challenge you on Twitter (a fake feed, of course) in this huge, scripted tale. Your meteoric rise to stardom can take a long time – the first year alone holds approximately 40 hours of gameplay.
The story in MyCareer is grounded, but if you're not particularly interested in the theatrics of it, maybe you'd like to play manager? Well, there's incentive to keep playing as the VC you earn in MyCareer also carries over to MyGM. You may choose how to spend your cash: on player upgrades, customisations options or managerial upgrades. MyGM is deep… slightly too deep. Merchandise and beverage prices can be altered, analytics checked, contracts negotiated, rotations edited and so much more. Although you start by selecting a speciality (e.g., business, coaching, etc.), it's ultimately your choice to be as hands-on or otherwise in all respects.At the get-go, the owner of the team you adopt will set goals that he wants achieved. Games can be played or simulated through, and eventually you will reach the All-Star Weekend, and hopefully the Playoffs. I wish the mini-games – 3-Point Shootout and Slam Dunk Contest – were available to play outside of the mode as they can be a nice little bit of fun amongst competitive mates. All-in-all, NBA 2K14 is certainly not lacking in content.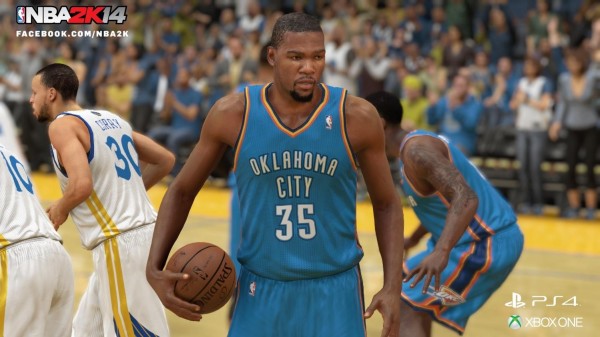 Aggravatingly enough, I encountered numerous bugs and more minor glitches that dampened my enjoyment to varying degrees; the most annoying of which would be a controller connection problem. Randomly, our offline multiplayer games would be interrupted by a message asking us to "reconnect wireless controller no. 2". At first, I thought this could have been due to low battery or the like, but I immediately reminded myself that my second Xbox One controller hadn't seen much use at all. The controller was still in an on-state, and could be used to return to dashboard and navigate it. I then discovered online that a large contingency of gamers had also experienced this, now confirmed, infuriating bug. I've also been crashed out of the game and dropped out of modes because "certain modes require an internet connection", although my ADSL 2+ connection remained rock solid. I also shant (got me so mad I'm going all Shakespearean in this piece!) forgot to mention the constant, drawn-out loading screens. Related to this is the unnatural U.I. requiring you press "B" – usually ingrained in us as the 'Back' or 'Cancel' button – to enter an overlay that should have really been worked into the main screen. This is a true understatement, but Visual Concepts could do with a little more creativity and fluidity in their interface design (especially with a name like theirs…)
Visuals & Audio
NBA 2K14 is heads-and-shoulders above every other sports game in the graphics department, running at 1080p and 60fps. It is not even comparable to its last-gen iteration as the visual enhancements aren't simply modifications, but the results of a completely revamped engine. The 'Eco Engine', as it's called, adds a plethora of animations and movements that aid in creating the most realistic in-motion action seen yet. The general attention to detail in the presentation is superb: coaches and team members on the bench reacting to your successes and failures, the lights and immediate surroundings dynamically reflecting upon the surface of the court, the amazing cloth physics and quality facial captures, great textures and a fully 3D, animated crowd… it's sincerely very impressive to behold. Having said that, in reference to the scans made of all the basketballers' faces, their expression set is still limited to a standard number of emotions that are cycled between, the transition to and fro lacking a certain smoothness.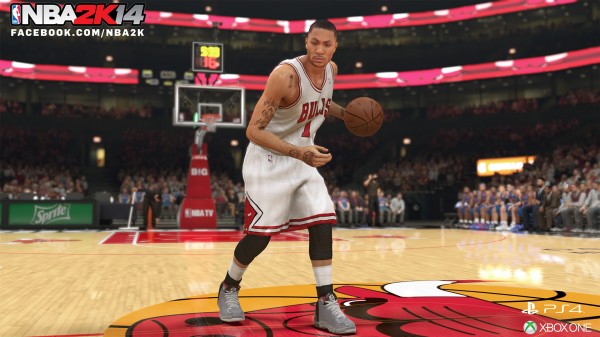 Okay, I understand the message behind "Started from the Bottom" by Drake – its not exactly hidden, and he smacks you in the face with it to boot after all – and yes, it was a popular hit. But if I have to hear him complain about "traffic on the way home" and wearing "every single chain, even when I'm in the house" one more time as I navigate the menus, I will flip. Beside's that delusional poseur's feature song, the soundtrack includes some stellar choices – supposedly all hand-picked by Lebron James himself – such as "All of the Lights" by Kanye West feat. Rihanna, "Get Lucky" by Daft Punk feat. Pharrell Williams, the classic "In the Air Tonight" by Phil Collins and my favourite for the specific vibe and energy of a basketball game, "Cool 2 Be Southern" by Big K.R.I.T., among many others. In regards to actual audio design and implementation, however, NBA 2K14 suffers from some grating and confounding bugs. That being said, the audio settings are quite robust, giving you the option to even alter the sound levels of on-court chatter. The first issue though is very noticeable and relates to the crowd… Get a hometown audience fired up and their raucous cheers play at fluctuating volumes. This is particularly odd because audio implementation is, dare I say it (having some first-hand experience), one of the easiest parts of game development. It's not a sporadic bug either – it's a consistent occurrence, which makes me believe they possibly had technical issues with the audio capture device used (can't be sure). You'll also hear random ghost screams from players as if they had just been knocked over for a personal foul, or flopped when they had not. And even though I understand the limitation involved, not having any voice-overs for star players in MyCareer breaks the immersion, with your created character basically speaking back to a brick wall, as the saying goes. They stare at you, lifelessly, with their verbal communications displayed in a text box at the bottom of the screen. Key players and coaches do voice their opinions in 'Real Voice' interviews at half-time and end-game, which are sound bytes culled from actual interviews and a nice touch, although just like the commentary, certain lines begin to repeat themselves relatively early on.
Overall
NBA 2K14 is stunning, and built upon the strongest of foundations in gameplay. Its mechanics allow players to pull off the flashiest and most expert of manoeuvres on the court, with an underlying depth to both offensive and defensive strategy. The exclusive MyGM mode is extremely involved, probably to the point of overwhelming even the biggest fans of the sport or simulation games. Micro-transactions are included, once again, in the form of buying Virtual Currency (VC), although the amount earned through the improved MyCareer experience and the companion app for mobile devices – where you can receive free VC daily – is just enough to get by in substantially upgrading your manager and MyPlayer (although you will need to invest significant time in MyCareer for the long haul). What's holding back NBA 2K14 from being a fantastic overall package is the sophomoric, bland and unintuitive U.I., as well as the multiple technical hitches; some on the server side, others plain confounding. NBA 2K14 is not the perfect B-ball game, but 2K Sports' own 'Path to Greatness' on next-gen is only just beginning.

Capsule Computers review guidelines can be found here.