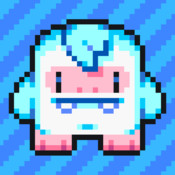 Lost Yeti
Developer: Neutronized
Publisher: Neutronized
Platforms: iPhone (Reviewed), iPad, iPod Touch
Release Date: 15th January 2014
Price: AUS/US$0.99, £0.99 – Available Here
Overview
Here in Europe, winter has come in full force and it would seem that Italian based indie developer, Neutronized Games, have caught the winter chill. Plunging you right into the heart of a snow covered, mountainous landscape, this charming 16-bit style puzzler will rack your brain and leave you more than a little hungry for an ice lolly.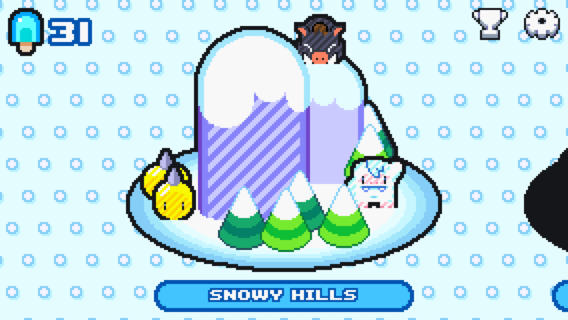 Story

While on a lovely stroll through the mountains with his tribe, a young yeti (let's call him Bert) spotted something wonderful sitting just off of the path. Bert's eyes lit up at the sight of a delicious ice lolly. Unable to resist the pixelated goodness, Bert ran off to claim his prize. Though, to his despair, the rest of his group left him behind and now he finds himself lost with only you to guide him back to his family.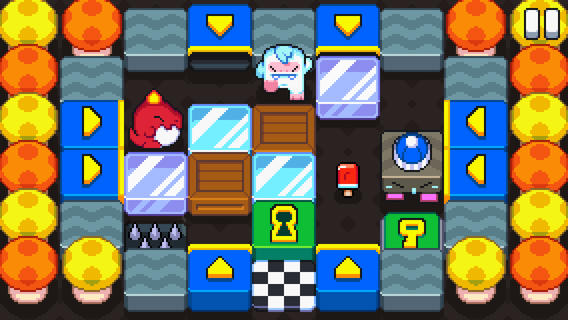 Gameplay 

Lost Yeti takes a very standard, classic approach to puzzle solving that relies heavily on timing, and a methodical thought process. The only tools that you control are rows of ice blocks that you can move horizontally or vertically to manipulate the movement of Bert the Yeti as he trundles along relentlessly, only turning when he hits a wall.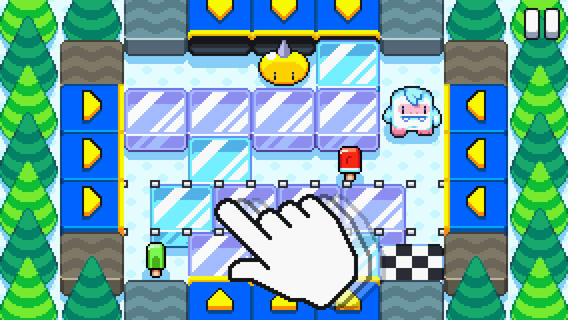 At first the game seems very easy, but as you progress you begin to encounter enemies and hazards that make it extremely difficult to progress, especially if you are a completionist who needs to collect every single lollipop and take the shortest possible route on every stage. I wasn't even out of the first area before I rage quit the game for the first time when I was repeatedly flattened by a boar that followed Bert around the level and ate every lollipop in sight. In a market of iOS games that are too easy to justify their price tag, this game will keep the avid puzzler coming back for more, but I think the average mobile gamer will find Lost Yeti more frustrating than puzzling. The primary reason for that is that you lack direct control over Bert himself so instead of blaming yourself, you just end up screaming at Bert for being such a stupid, 1-direction walking, furry, white lump. Not that I am bitter or anything…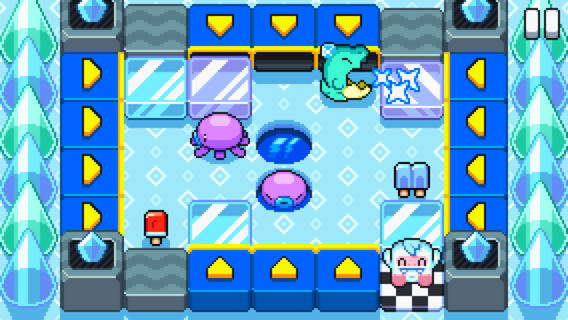 Visuals
The level and character designs in Lost Yeti are easily its strongest feature, taking heavily from a lot of the browser-based flash games, such as Snow Tale, that Neutronized have developed in the past. Every single pixel is bright and vibrant and for such basic sprites, the amount of character that you get from Bert and the many enemies that he confronts is really quite impressive. Bert is easily one of the cutest characters I have played with in any game and I would almost recommend buying the game just to see his adorable smile when you complete a level!
Audio 

Dear god, the audio. You will enjoy the audio for all of 5 minutes and then you will either be driven insane, or have a hefty repair bill for the hole in the dry wall you just created by launching your iPhone as far away from your ears as possible. Repetitive is not the word. What little audio there is fits well with the style of the game, but it seriously needs a patch to mix it up a little more.
Overall
This tricky puzzler is not the sort of game that I would come back to, but if you're looking for a challenging app that easily has enough gameplay to justify its $0.99/£0.99 price tag then you could do a lot worse. It has a great art style, challenging puzzles, and most importantly it is fun, if not extremely rage inducing.
To find out more about this game and similar awesome iOS titles, check out MasterAbbott's latest iOS game suggestions.

Capsule Computers review guidelines can be found here.