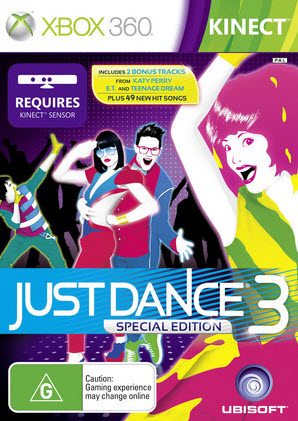 Just Dance 3
Developer: Ubisoft
Publisher: Ubisoft
Platform: Xbox 360 Kinect (PS3 Move, Nintendo Wii)
Release Date: 11th October
Available Here
Overview:
The premise of the Just Dance series is established pretty clearly by the title: whether you're fit or fat, young or old, Just Dance encourages you to step up to dance and enjoy yourself. There's no doubt that the routines are hard – they can be as hard as you want them to be if you really try to master the choreography – but it's primarily a party game to have a laugh within a group. Just Dance 3 marks the first time the series has been brought to the Kinect sensor, offering controller-free movement tracking among the other new additions, so let's take a look at how the Kinect version fares.
Gameplay:
One of the key draws of Just Dance and Just Dance 2 for Wii was their ability to make the rather inaccurate motion control of the Wii remote seem responsive. What you were doing seemed to be reflected onscreen and you were scored for trying, at least, and there weren't many other dance games on Wii that seemed to come close in terms of quality. Now that the stakes have upped with the full-body tracking of Kinect, how does it differ? For a start, your legs are tracked now as well as your arms, which encourages you to follow the routines more precisely. As a result, playing the game on Kinect feels much harder and more fulfilling than other versions, as you have to dance properly to get a score.
The routines themselves are very good; each song has very different choreography and a new backdrop. Almost all of the dances are energetic and after a few of songs you begin to feel it in your arms after having to fling them around rigorously for 3 minute bursts. It's a good workout tool because, unlike dedicated fitness titles, it's less of a chore to exercise as you have fun while doing it. You're not simulating a skipping rope or jogging on the spot, you're just dancing but working up a sweat at the same time. Your workout is even aided by a 'Just Sweat' mode, which offers similar gameplay but measures the energy you're expending, with a handful of stats coming at the end.
As well as dancing solo, songs with multiple onscreen dancers support duet and, in some cases, up to four players simultaneously. While on Wii this doesn't present too much of a problem, because as long as everyone has a view of the TV you can squeeze everyone into a small space, on Xbox 360 it's a different story. The routines are energetic with lots of arm waving and movement anyway, so trying to get four people within view of the sensor whilst leaving enough space around each of you to move can be difficult for those of us without living rooms the size of small school hall. The game suggests you stand in staggered formation to counter this, but this too can be a little cramped and lead to minor problems of the Kinect being unable to see and arm or a leg if it is blocked out slightly by the person in front.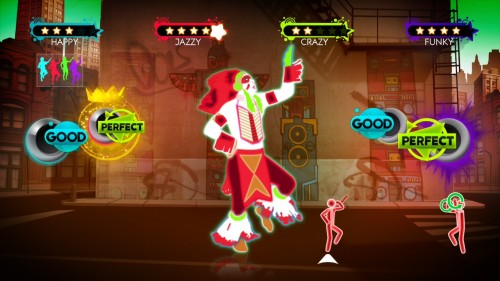 One of the larger new additions is a 'Just Create' mode which allows you to come up with your own choreography. It's a nice idea and you have the choice of using the usual dancer as a guide for your movements or coming up with your own routine entirely. It's fair to say that maybe the execution isn't quite there just yet for Just Create, as limited space between you and the sensor means that many users' their leg movements won't be recorded and it will instead show them from the waist up. At the moment it is just an extra bit of throwaway fun, but it lays the foundations for something that could be built on in future Just Dance games.
Visuals:
I've always been particularly taken by the visual design of the Just Dance games. The onscreen dancers possess a neon glow, complementing bright (and in Just Dance 3, increasingly creative) backgrounds. You're never quite sure whether your onscreen guides are real people or avatars made for the purpose of showing you, but their fluid, lifelike movements make them easy to follow. The neon effect is all the more pleasing in the new Just Create mode. As you are doing the choreography, a neon-lit version of yourself appears onscreen, an effect which is made particularly cool when wearing interesting clothing or a t-shirt with an elaborate logo.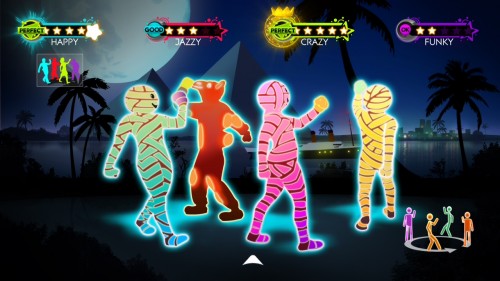 Audio:
The previous Just Dance tracklists have been strong – Just Dance 2 was even featured in a Katy Perry music video. Just as Ubisoft's publishing clout has grown, the number of tracks in Just Dance 3 has grown with it. Just Dance 3 has 51 tracks to choose from; many of them are popular chart-toppers and there's a mix of old and new. On occasion, there seems to have been missed opportunities. For example, LMFAO's Party Rock routine features no shuffling whatsoever, and various other routines don't seem very related to the song their centred around. However, these situations could be due to not having rights to the choreography, and these problems are rectified by other areas which are similar to dance moves associated with/used in the music video of songs – '2 Unlimited – No Limit' is authentic, just to name one.
Overall:
For a first attempt at bringing Just Dance to Kinect, Just Dance 3 isn't bad. The motion tracking is in a different league to that of the Wii version, but somehow the series still feels more at home on Wii, perhaps due to a lack of decent rivals. On Xbox 360, however, Just Dance 3 has the likes of Dance Central 2 to contend with, which as a dancing game just edges it. On the other hand, as a party game, Just Dance 3 reigns supreme. It was always about accessibility and Just Dance 3 nails it in the pick up 'n' play stakes, which is why it's worth picking up if you're looking for a dancing game less focused on slowly learning the routines step-by-step and more focused on jumping straight in and having a good time.